Meet the 2011 Cleveland Browns. They're the new nice guys in the AFC North, but will they finish last?
This was the off-season Ray Lewis predicted Armageddon, but even without football, the Browns have seen no players arrested. Nobody's even managed to make a stink via Twitter or magazine.
The organization has used this most recent rebuilding period to reinvent their culture and focus on character. This is what building a solid foundation is all about.
Just look at the improvement:
Last summer the Browns had four players arrested and all are no longer with the team. Shaun Rogers and Robaire Smith both got pinched for having loaded guns in airports, Chris Jennings was charged for assault at a nightclub, and Gerard Lawson for DUI. (Robaire's technically still on the roster but the team may chose not to bring him back).
Compare that lot to the arrests of 2009, and you can see Browns are making progress: Braylon Edwards charged with misdemeanor assault and Donte Stallworth for DUI manslaughter. That's a biggie.
The only red flags on the current roster belong to their top-3 draft picks. Phil Taylor and Jabaal Sheard both have rap sheets for fighting in college, and Greg Little attempted to set the world record for parking tickets at UNC. Still, those are just red flags right now and no trouble has been caused at the pro-level yet.
Compared to the rest of the division the Browns might as well be angels…
[Bad behavior through 2008]
Cincinnati Bengals
The Ohio football jail-blazers have been relatively quiet this off-season; one arrest thus far (Pacman). However, over 50% of their arrests from 2010-2008 are still on the roster, and they're an amazingly consistent bunch. All DUIs and face punchings. They're basically the NFL version of Mickey the pikey/Brad Pitt from the movie Snatch:
Pacman Jones – Arrested, charged with disorderly conduct while intoxicated and resisting arrest. The words "Pacman" and "disorderly conduct while intoxicated and resisting arrest" just go together like peanut butter and jelly.
Cedric Benson – Charged with misdemeanor assault after allegedly punching a bar tender in face. Benson was also arrested twice as a member of the Chicago Bears for DUI both on land, and at sea.
Maurice Purify – Arrested on disorderly conduct in Kentucky after an alleged bar fight. No longer with team.
Rey Maualuga – Arrested for DUI in Kentucky after hitting a parking meter and two parked cars.
Leon Hall – DUI.
Ahmad Brooks – Misdemeanor assault, accused of punching a Kentucky woman in the face. No longer with team.
Chris Henry – Charged with assault and disorderly conduct after police said he punched a man and threw a beer bottle through a car window. Released by team, now deceased.
Baltimore Ravens
This one surprised me. I had always painted all Ravens players with my Ray Lewis brush, in that I thought they were all murderers bailed out in life by football. However, they run a pretty tight ship. Maybe it will take the Browns a few years to find players good enough to get away with felony assault. And you wonder where the Ravens get that scary on field mystique from:
Sergio Kindle – Arrested on suspicion of DUI after being pulled over at 4 a.m. in the morning. This is the only Raven to have been arrested over the past 3 years who is still on the team.
Tony Fein – Assaulting an officer. Cut in two weeks.
Derrick Martin – Having weed at Cleveland Hopkins Airport. No longer with team.
Terrell Suggs – Felony aggravated assault. Acquitted.
Ray Lewis – Felony murder and aggravated assault. Pleaded guilty to obstruction of justice instead, paid a $250,000 NFL fine.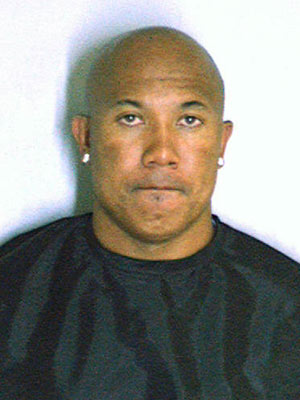 Pittsburgh Steelers
And now the fun begins. Ironically lauded as a model franchise, Pittsburgh's actually got a good list going, and these arrest records have nothing to do with the Steelers recent media-blunders. Those included Rashard Mendenhall tweeting support for Osama Bin Laden (or speaking out against those speaking out against Bin Laden), Ryan Clark trash talking with Ray Rice, and the inspiration for this article, James Harrison, for "shooting" down everyone in a recent Men's Journal article.
Hines Ward – Arrested on suspicion of DUI.
Ben Roethlisberger – Suspicion of sexual assault, twice. Not charged. Star QBs are above the law.
Jeff Reed – Arrested for resisting arrest and public intoxication. Police say he raised fists while officers issued a public urination citation to teammate Matt Spaeth. No longer with team.
Matt Speath – Cited for public urination outside Hines Field with Reed above.
Jeff Reed, again – Best arrest ever. Cited for criminal mischief and disorderly conduct after allegedly throwing a tantrum in a convenience store restroom. He allegedly damaged a towel dispenser after finding it empty. Paid $544 in fines. That is not a joke.
Santonio Holmes – Weed. This was Holmes fourth and final arrest as a member of the team. Traded prior to last season.
Cedrick Wilson – Simple assault, harassment and disorderly conduct after allegedly hitting his former girlfriend in the face at a bar. No longer with team.
James Harrison – Simple assault and criminal mischief after police said he broke down a bedroom door at a girlfriend's home after she locked herself in. Charges dropped.
And with that, the Browns can hold their heads up high over the rest of the division, at least morally. The problem is morality doesn't win football games – players like James Harrison and Ray Lewis do.
Not that building a foundation based on character is a bad thing. It's something the Steelers and former-Browns (Ravens) have been doing for far longer than the expansion era itself. But at some point, you've got to take a chance on talent, and talent come in all shapes, sizes, and persuasions.
Let's hope the new era of well behaved Browns pays off in wins this year. If it does it would be a new formula, because teams around the league and especially in their division win another way.
Then again, maybe they're on to something with Jabaal Sheard and Phil Taylor.
Tags: Ben Roethlisberger Cedric Benson Hines Ward James Harrison Ray Lewis