After a weekend of digesting a less-than-stellar but equally unimportant outing by the Cleveland Browns in their preseason opener, a new reality is upon us this week.
Browns fans, welcome to the season of the rookie quarterback.
If you flipped on SportsCenter Monday morning, you were treated to the following statistical graphic:
Rookie Quarterback NFL Debuts
| | | | |
| --- | --- | --- | --- |
| | Completion | Yards | TD-INT |
| Andrew Luck | 10-16 | 188 | 2-0 |
| Robert Griffin III | 4-6 | 70 | 1-0 |
| Ryan Tannehill | 14-21 | 167 | 1-0 |
| Brandon Weeden | 3-9 | 62 | 0-1 |
Yes, Brandon Weeden had the worst numbers and only interception of the debuting rookies.
Thank you, ESPN, for making this comparison easy enough for a fourth grader to comprehend. Why, they've even got the quarterbacks listed in the order of which they were drafted. Very clever.
This is where we're heading, Browns fans: a bevy of lists, stats and articles written to surmise the performance of the quarterbacks drafted in 2012, with emphasis and care taken to spin it all against the Browns.
After all, the world is a better place when Cleveland comes in last. Rubbish.
I did not see anything noteworthy from Brandon Weeden on Friday, but I know that is okay. I saw Colt McCoy light up the defending Super Bowl champions in the preseason opener last year, only to have it translate into arguably one of the worst seasons in Browns history.
In the NFL, we see what happens first, slap an animated GIF on it, and figure out what it means later.
Andrew Luck
Yes, he looked good, even though his first touchdown pass was a two-yard screen that turned into a big play. "Luck Throws 63-Yard TD on First Pass" – what a headline. Then again, Peyton Manning once set the NFL record for touchdown passes in a season on a two-yard shovel pass to his running back.
Luck did make a very sharp-looking touchdown throw to Austin Collie later in the second quarter.
You can view Luck's official ESPN highlights here, and yes, he looks the part of the No. 1 overall pick so far, but yes, Colt McCoy looked like John Elway in the preseason opener against Green Bay last year.
If you'll notice, Luck will also be compared to Manning every step of the way this season, and possibly beyond.
And for that, we truly feel sorry for poor Andrew:
Robert Griffin III
Yes, he looked great too, and really fast. It's as if his every five-step drop is a sensual blur, with every throw bearing a rainbow in its wake.
The following day, NFL prognosticators decided to praise Griffin's ability to whip his head around and see the field before making a throw, instead of just running. It's such a predictable commentary on Griffin's skill set and presumed limitations it's almost racist, and yes, his first career touchdown was also on a screen pass.
Obviously, he looks as exhilarating as advertised, and the Browns could have had him. Please, rub that in my face just a little more.
By the end of the year, we won't be able to turn on the TV without drowning in RG3 Gatorade commercials, Top 10 Plays and exposés:
Ryan Tannehill
Not only did he look good, but the so-called "project" is ahead of the game, taking more reps than anyone on this page.
With the mysterious/fortunate injury to David Garrard, the Dolphins aren't going to be able to sit Tannehill for an entire season. And with this sweet, compact delivery, it's easy to see why:
People will be quick to dump on Tannehill if he falters, especially in these parts. The Dolphins took a giant risk in drafting the converted wide receiver, much like the risk the Browns took by drafting the elderly Weeden, and men with microphones love saying they told you so.
With both the Dolphins and Browns being run questionably for years, wouldn't it be horrible to wake up one day to a world where Tannehill the Risk has paid off, but Weeden the Risk has failed?
I imagine we'd wake up feeling the same as we've felt every Monday for the past five years: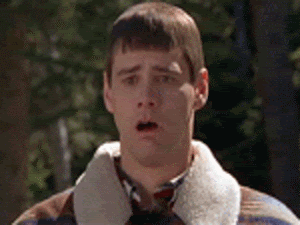 Tags: Andrew Luck Brandon Weeden Robert Griffin III Ryan Tannehill