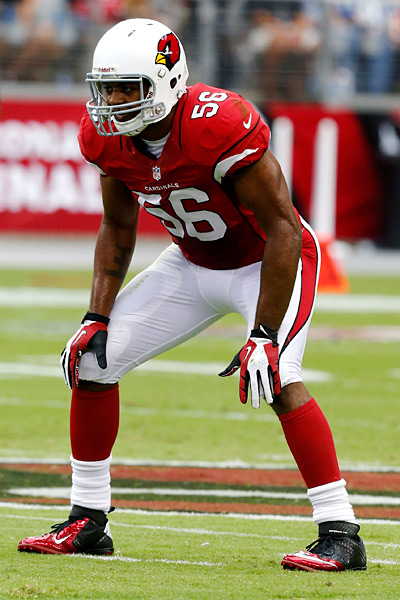 It was an interesting opening day for the NFL off-season and free agency period, a day which had a few surprises and some really strong acquisitions by various NFL teams. The Cleveland Browns, for the second year in a row, were among the most actives teams in the league as the market opened at 4 pm. Though not yet official, the Cleveland Browns have added veteran linebacker Karlos Dansby formerly of the Arizona Cardinals to take over for the recently departed D'qwell Jackson. The Browns also agreed to terms with Donte Whitner of the San Francisco 49ers, the hard hitting safety and north east Ohio native will be asked to take over the strong safety position vacated by T.J. Ward. Offensively, the Browns have come to an agreement with Cincinnati Bengals wide receiver Andrew Hawkins on a 4 year deal. As a restricted free agent, the Bengals will have 5 days to match the deal but will not receive any compensation for letting him walk based on the low level tender they placed on the speedster from Toledo. Now to take a closer look at some of the individual moves made on day 1, rumored interests, and the remainder of free agency's impact on the draft.
– Signing Karlos Dansby was a strong move by the front office and one that will pay immediate dividends for Cleveland. Dansby signed for a 4 year deal, worth $24 million with $14 million guaranteed and $10 million in the first year. It was a hefty price to pay for a 32 year old player entering the later stages of his career, but the Browns identified Dansby as the leader of their defense and did what it took to get their guy. Schematically, Dansby is a dangerous fit in Mike Pettine's defense. Last season under defensive coordinator Todd Bowles in Arizona, Karlos Dansby led an explosive and disruptive Cardinals defense with 121 tackles, 6 sacks, 4 interceptions, and one forced and recovered fumble. His speed and versatility are major reasons why he is here and Jackson has moved on, but even more importantly is his talent for disruption. Mike Pettine has described his defensive ideals as "causing havoc" for opposing offenses, and Dansby fits that description far more than the steady and reliable Jackson. The addition of Karlos Dansby upgraded the Browns range, pass rush, and ball skills from the inside linebacker position. For a defensive system built around disruption, he was the best fit on the market and worth every penny.
– Losing T.J. Ward hurts. It is always going to hurt when you lose a top 5 player at his position, especially one who has such a large impact on the defensive production. But Browns fans have to face facts, T.J. Ward was done with Cleveland, he wanted out and was willing to take less money to go and play for a contender. The Browns granted him his wish and did the best they could do to shore up the void left by Ward by adding Donte Whitner on a 4 year $28 million dollar deal. According to the rankings at Pro Football Focus, T.J. Ward graded out as a top 3 safety in the NFL in 2013, with Whitner checking in at 6th overall. Both players are hard hitters who excel in run defense while intimidating opposing offenses over the middle in the passing game. The Browns front office did well to avert a media disaster by replacing their former Pro Bowl safety with another Pro Bowl safety, but the Browns did not get better at safety today.
– Andrew Hawkins was somewhat of an unknown and a bit of a surprise to many Browns fans, but anyone who followed the Bengals closely will rave about the diminutive playmakers potential. While the Browns plan to put him in the slot in the base offense, Hawkins could also factor into the teams plans in the return game. Hawkins short area quickness and sub 4.4 deep speed make him a dangerous weapon on an offense already featuring Josh Gordon and Jordan Cameron. The Bengals will likely take all 5 days to decide whether or not they plan on matching.
– The Darrelle Revis saga has been a bit of a roller coaster ride for Browns fans, but according to NFL insider Ian Rappaport the Browns and Buccaneers have backed away from a deal due to Revis being unwilling to restructure his contract. The idea of Joe Haden pairing with "Revis Island" at cornerback is a fun one. Mike Pettine and Jim O'Neil have to be salivating at the defensive flexibility his addition would bring. Revis is rumored to be headed towards New England or even back to New York, but if he hits the market his agent will get a phone call from Berea.
– It will be interesting to see what the Browns do at wide receiver for the remainder of the free agency period. Sure, the Browns needed to replace Davone Bess at the slot, but there is a gaping hole at the #2 wide receiver spot opposite of Gordon. Does the rumored emphasis on finding a slot receiver mean that the team will be looking for a starting receiver early on draft weekend? Combine that notion with the rumor that the Browns are not enamored with any of the quarterback prospects at #4 and you have some signs pointing towards former Clemson Tiger Sammy Watkins at the top of the first round.
– The Browns apparently had an interest in running back Toby Gerhart before the former Stanford Cardinal signed with the Jacksonville Jaguars. Donald Brown, also a rumored target of the Browns signed with the San Diego Chargers. Both players signed 3 year deals worth $10.5 million. It looks like $3-4 million per season should end up being former Houston Texans running back Ben Tate's price tag as well, a number the Browns could easily afford. The move would make a great deal of sense for both sides.
– The Browns are reportedly very close to finalizing a deal for former Buffalo Bills linebacker Arthur Moats to reunite the multi tooled linebacker with Pettine and O'Neil. Moats has terrific size at 6'2, 250 lbs. and possesses the athletic versatility to play multiple positions at linebacker. If the Browns can come to terms with Moats, they will have completely transformed the middle of their defense from a year ago. D'qwell Jackson and Craig Robertson were both 6'1 or under and weighed less than 240 lbs., where as both Moats and Dansby are 6'2 or over and weigh in at 250 lbs.
– Matt Schaub is a name worth following for Browns fans. If released from the Texans, there will almost certainly be a market for his services. Schaub would likely be brought in to compete with Brian Hoyer and a draft pick for the starting job. If not Schaub look for Rex Grossman and do not sleep on an eventual trade for Kirk Cousins.
– The Browns came to terms with back-up cornerback Isaiah Trufant formerly of the New York Jets late on Tuesday. Trufant was not tendered by the Jets and will compete for a roster spot in Cleveland.
– Lastly, here are some names that you could hear surface with the Browns in the next few days: RB's Ben Tate and Anthony Dixon. WR's Julian Edelman and Emmanuel Sanders. OT Anthony Collins, DL Alex Carrington and CB Antonio Cromartie.
Follow me on twitter @JoeMazzulo, and look for future News, Notes, and Musings as free agency and the draft unfold.
Tags: AFC North Andrew Hawkins Brian Hoyer Cleveland Browns Donte Whitner Free Agency Isaiah Trufant Karlos Dansby Mike Pettine NFL NFL Draft