DPD Bettor's Guide: Week 1 edition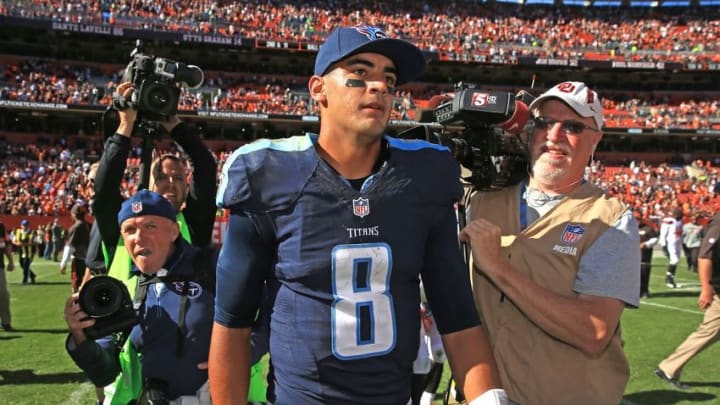 Sep 20, 2015; Cleveland, OH, USA; Tennessee Titans quarterback Marcus Mariota (8) walks off the field after being defeated by the Cleveland Browns 28-14 during the fourth quarter against the Cleveland Browns at FirstEnergy Stadium. Mandatory Credit: Andrew Weber-USA TODAY Sports /
Dawg Pound Daily's resident sports betting expert Roger Cohen selects his best bets for the opening week of the 2016 NFL season.
Now that you've returned from that First Class Around-the-World vacation and are enjoying your new multi-million dollar mansion with the profits from my winning Super Bowl prediction, you probably can't wait for my picks kicking-off Season Two as Dawg Pound Daily's resident handicapper.
Let's just gloss over — in the style of this year's presidential campaign — the sad truth about my 2015 regular season record of 37 wins, 36 losses, two "pushes" which wouldn't have covered the bookmaker's "vig." Or that as a still clean and sober former gambler I never wagered one dime of my own money on these picks or any sports bet since Pat Shurmur was coaching the Browns.
In fact, I was going to permanently delete Sportsbook.com from my "Bookmarks" list and quit this gig but the Dawg Pound Editors "needed the content" — just as Delta House "needed the dues."
But enough about me — you're here to pump up your Bitcoin wallet. As tempted as we might be to roll the dice on the Brownies +3.5 against a rookie QB jilted by the Law Firm of Brown, Berry, Jackson and Podesta, the Browns 1-16 record in Week 1 since 1999 is a bit too much of a trend to buck.
When we were betting, we used to clean up on playing all the underdogs in Week 1 — which worked out pretty well until the linesmakers sharpened their pencils and the past several seasons have evened out.
While NFL Week 1 features marquee Thursday, Sunday Night and two Monday Night match-ups, we suggest you bet these three games on Sunday's 1 p.m. undercard:
And one 4 p.m. game:
'Fins +10.5 at Seattle. Sure, it's the longest road trip in the NFL, but Russell Wilson's wild off-season makes Miami a Week 1 double-digit dog bargain.
Next: 5 bold Browns predictions for 2016
Oh, if RG3 doesn't turn the ball over and if the new kickers don't embarrass themselves and if there's no Helmetgate The Sequel, that Browns opening day record could improve to 2-16.