Cleveland Browns: 5 offensive takeaways from Week 1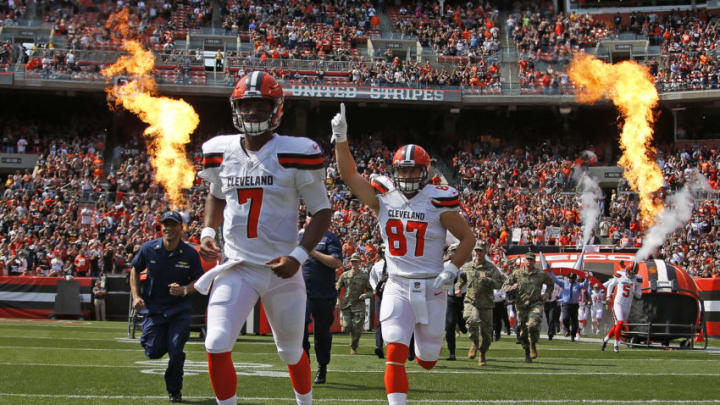 (Photo by Justin K. Aller/Getty Images) /
(Photo by Justin K. Aller/Getty Images) /
The Cleveland Browns didn't have a great day on offense against the Pittsburgh Steelers, but there were still some positives to draw from the season opener.
That was a fun home opener wasn't it? The punt block touchdown was the punch-in-the-stomach I've been accustomed to in these things, but the Cleveland Browns did a really nice job of overcoming that early deficit and actually looking like an NFL team for the first time in a while.
Not having Myles Garrett out there is the ultimate "what-if" scenario as the Steelers sacked the Browns seven times to the Browns' one.
The lack of a pass rush is what eventually spelled doom in their comeback attempt, but hopefully this game serves as a look at what could be a competitive team to watch this year. Isn't it nice to finally be competitive? It's amazing what having a decent offense and an above-average defense can do for a football team.
The defense swallowed up the run and DeShone Kizer made some plays in crunch time, but they had one too many mistakes and couldn't make enough plays to pull out the victory. Plus the Steelers have this guy, Antonio Brown, and he is like, an absolute freak of a wide receiver. (The Browns could really use a receiver like that.)
Anyway, here are some takeaways from the offensive side of the ball that the Browns can look to build upon in the upcoming weeks.