Cleveland Browns drop to 0-5 with mistake-filled loss to the Jets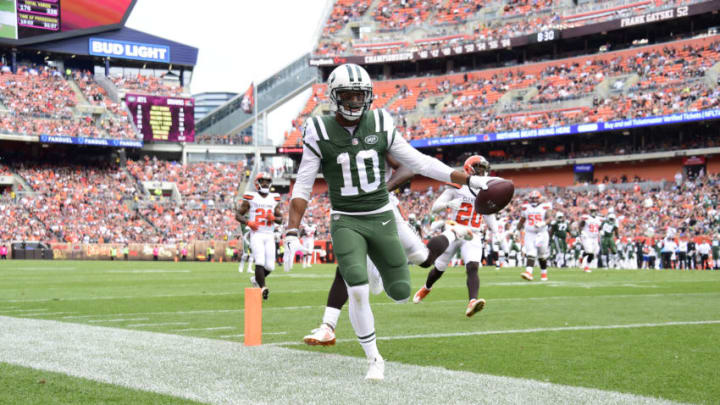 (Photo by Jason Miller/Getty Images) /
The Cleveland Browns fell to 0-5 in 2017 after a loss to the New York Jets filled with missed opportunities and mistakes in all aspects of the game.
The Cleveland Browns took whatever optimism fans had and threw it in Lake Erie with a demoralizing 17-14 loss on Sunday to the New York Jets.
Let's start with the one positive to keep us all from going crazy. Myles Garrett made his debut and had two sacks in limited action, although he still didn't appear to be at full strength. But if he can do that well at 70 or 80 percent, the future is bright for the number one overall pick.
Now to the rest of the game.
The Browns squandered five scoring opportunities in the game, which included two missed field goals, a red zone interception, a red zone fumble and a red zone turnover-on-downs. Things got so bad that Hue Jackson decided to bench DeShone Kizer for the second half in favor of Kevin Hogan.
Hogan did go 16 for 19 with 194 yards and a touchdown, but all the missed chances did too much damage.
The Browns only trailed 3-0 at halftime, giving fans hope that the first victory of 2017 would finally arrive. Hogan even took the offense on a touchdown drive to open the second half, giving the Browns their first lead all season.
The defense then forced a punt and the Browns had a chance to pull away, but an interception led to a Jets touchdown, giving Josh McCown's team a lead that would never be relinquished.
Duke Johnson did score a nice touchdown late in the game, bringing the score to 17-14. The problem was that Jackson had used all the timeouts, including one to set up a turnover-on-downs when Isaiah Crowell couldn't punch the ball in from the four-yard line.
The run came when a field goal would have tied the game. This play will likely lead to some debate from fans, but Zane Gonzalez had already missed two field goals and an offense should be able to score from four yards away. I suppose that is just wishful thinking with this team.
I'm truly at a loss for what to say after this game. Jackson says he will stick with Kizer through the good and the bad and then benches him after a half of bad football.
The play-calling was questionable throughout once again, the kicking game was atrocious and missed assignments ruined what was an otherwise decent day for the defense.
Next: Top 30 moments in Browns history
This team simply finds new ways to lose every week, which isn't a 2017 problem. It's a post-1999 problem and it is getting harder to tune in every Sunday to watch this team continue to fail. Winning football games shouldn't be this difficult, and it is hard to say what the solution is after the latest 0-5 start.