Successful Cleveland Browns rebuild means death to 'The Factory of Sadness'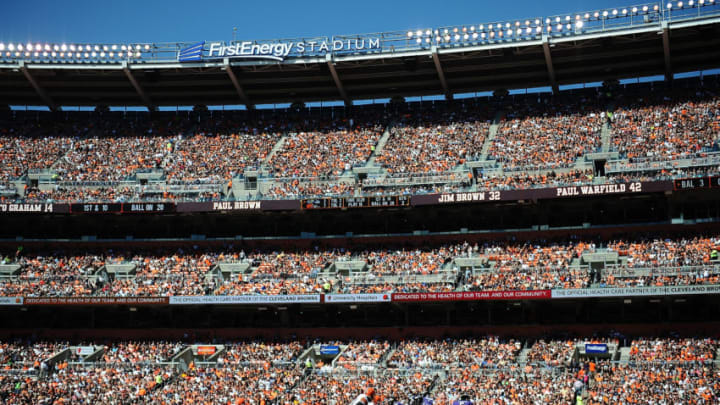 CLEVELAND, OH - SEPTEMBER 21: General view during the second quarter of the game between the Baltimore Ravens and the Cleveland Browns at FirstEnergy Stadium on September 21, 2014 in Cleveland, Ohio. (Photo by Maddie Meyer/Getty Images) /
If the Cleveland Browns new general manager John Dorsey can lead the team to a successful rebuild, could it be the end of the 'Factory of Sadness?'
For far too long the Cleveland Browns have been in a rebuild mode. Really, ever since returning to the NFL that's been the case.
Coach after coach has come in to get the job done and the front office has also seen it's share of change.
Now we have a new guy in charge as general manager John Dorsey hopes to rebuild the franchise, along with head coach Hue Jackson. Let's delve a little deeper into the mindset of Dorsey, the man charged with the latest rebuild.
Broadcaster Nathan Zegura asked Browns Dorsey about being hired last December during their ClevelandBrowns.com sit-down at the 2018 NFL combine.
More from Dawg Pound Daily
"Zegura: You spent four weeks with this team and got to see this football team, which is not something an incoming GM often gets to do. Did anything surprise you in those four weeks?"
Dorsey thinks about the question for less than half a second and then has his answer.
"Dorsey: How passionate the fans are."
Next a big smile breaks across his face and he shares a perfect example of  how surprisingly zealous Clevelanders are about their boys in orange and brown.
"Dorsey: There's a Speedway gas station up in Berea and it was on a Sunday, I was getting ready to go to the game early down at the stadium, and all of a sudden this school bus pulls up and it's a remodeled school bus. It's got a big helmet on it, it's got a big dawg face on the front of it, and all these guys getting ready to go to the game are hopping off the bus and I'm going, "Now that's pretty cool." It was awesome."
Ask any NFL enthusiast to describe a Cleveland Browns fan and their answer will always include the word passionate, usually followed up with "and lord knows why." With about a week to go before free agency gets started, Browns fans are furiously debating which available NFL quarterback the team should kidnap to help babysit whichever baby QB they end up drafting.
They dream of a future where their stadium is no longer The Factory of Sadness.
For those unfamiliar with the origin of that cleverly embarrassing stadium moniker, the name 'Factory of Sadness' was thought up by Cleveland comedian Mike Polk Jr. (@mikepolkjr) who, in 2011, published this viral YouTube video of him standing on the street outside the Browns stadium yelling these immortal words in anguish:
"Well, thank god we built you. What a blessing for the community.You are wasting valuable space on our majestic shoreline, and what do we get out of it from you?Ten miserable games a year, including two pre-season games that I have to pay for and one $hitty Kenny Chesney concert…. You are a factory of sadness!I'll seeya Sunday."
No Browns fan knows for certain if Dorsey's highly touted front office can acquire and draft the right combination of new and used players to fill the gaps in this still gappy team, but not one of them doubts that someday their deep and fanatical love for this sad puppy of a team will not have been in vain.
And lord knows why.
In that same interview, Zegura tells Dorsey exactly how Browns fans will respond to a football organizational savior:
"Zegura: You know when you come here, you turn this thing around, as I think everybody believes you certainly can, there will be statues for John Dorsey all around town."
And Dorsey answers in a way that should give Browns fans hope that he is indeed The One:
"Dorsey: This does not get done by one individual. This is a collection of individuals, the whole organization is."
Next: Browns can find some hidden draft gems
Good lord, let the winning begin and say goodbye to the sad moniker.