Cleveland Browns: Could NFL Draft be in Ohio in 2019, or 2020?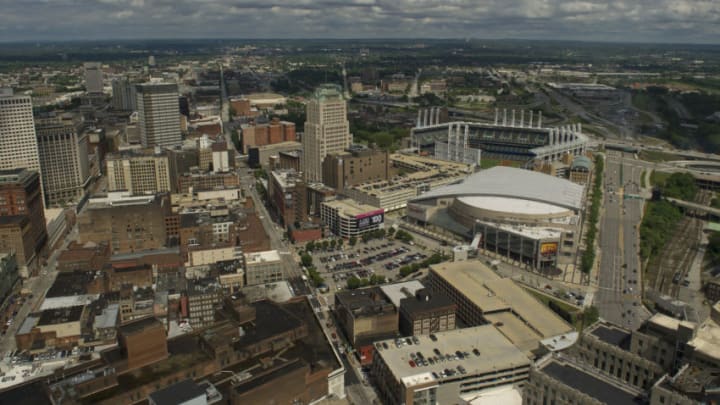 CLEVELAND, OH - JULY 8: A view of downtown Cleveland, which has been chosen for the 2016 Republican National Convention, on July 8, 2014 in Clevland, Ohio. The 2016 event will be held at the Quicken Loans Arena. (Photo by Jeff Swensen/Getty Images) /
The Cleveland Browns could become a host team for the NFL Draft as the league will decide if Cleveland and Canton will host for either 2019 or 2020
The NFL Draft has become a spectacle in recent seasons and it feels as though the Cleveland Browns are usually front and center.
Maybe them owning the No. 1 pick the past two seasons — as well as the No. 4 in 2018 has enhanced that feeling some, but they are often a prevalent team in the NFL Draft.
It would only make sense then that they become the hometown team for the event. That's reportedly a possibility in either 2019 or 2020 and the city will know next month what their fate is says Mary Kay Cabot of Cleveland.com.
""We're excited," Dave Jenkins, Browns executive vice president and CFO said via Mary Kay Cabot of Cleveland.com. "We feel like we've put forth a really strong bid that's extremely competitive with the other five cities."
It's worth noting that there's a combination in place here where not only the city of Cleveland, but Canton, Ohio could as well play a part in the future draft plans for the state of Ohio.
It would make sense either was as Cabot points out in her piece that the league was founded in Canton and it will either be a 100-year anniversary or the NFL centennial celebration taking place in one of those years.
Way back in August, 1920, the league was founded in Canton, Ohio. That would make it seem like a logical choice to bring the draft to the same area in 2020.
Either way, fans should be excited to see the weekend celebration come to town. The league has worked hard to turn the draft into a prime-time event and fans have responded by showing up and taking part in all the festivities.
Next: Browns can build a top defense
Hopefully though, the Browns won't be picking No. 1 in either of those years.