Ranking the Browns 28 Starting QB's Since 1999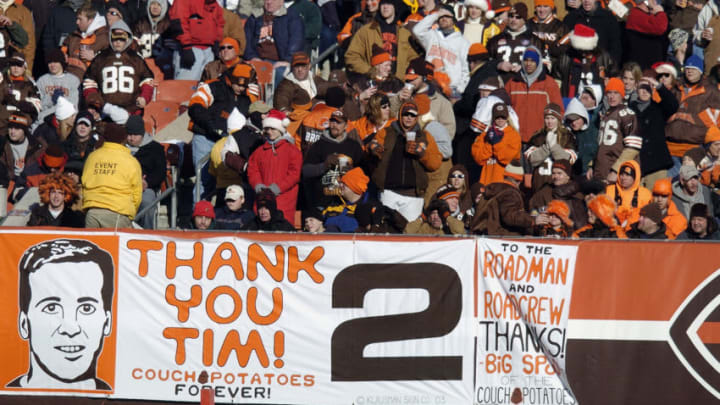 CLEVELAND - DECEMBER 21: Fans say farewell to quarterback Tim Couch #2 of the Cleveland Browns during the Browns last home game of the season at Cleveland Browns Stadium, which happened to be against the Baltimore Ravens, on December 21, 2003 in Cleveland, Ohio. The Ravens won 35-0. (Photo by David Maxwell/Getty Images) /
DENVER, CO – DECEMBER 23: Quarterback Colt McCoy #12 of the Cleveland Browns rolls out and looks for a receiver under protection from tackle Joe Thomas #73 of the Cleveland Browns against the Denver Broncos at Sports Authority Field at Mile High on December 23, 2012 in Denver, Colorado. The Broncos defeated the Browns 34-12. (Photo by Doug Pensinger/Getty Images) /
No. 6: Colt McCoy
Colt McCoy was a third-round pick by the Cleveland Browns out of the University of Texas in the 2010 draft. Colt was another quarterback that the Browns had planned to develop and was supposed to sit behind Jake Delhomme and Seneca Wallace while learning the NFL ropes.
McCoy would be thrown into the fire earlier than most had expected, due to injuries to Delhomme and Wallace. He would get his first start Week 6 his rookie year against the Steelers and ended up with eight starts and a 2-6 record.
Despite a pair of interceptions in his debut, McCoy had himself a good night. Completing 23-of-33 for 281 yards and a 12-yard touchdown pass to Ben Watson, the future looked bright for the 3rd round draft pick.
The next week, the rookie didn't look so hot, despite the Browns getting him his first NFL win as a starting quarterback, the rookie had just 74 yards passing. David Bowens would carry the Browns himself with two interceptions returned for touchdowns.
McCoy got his last win of the season the next week, against the Patriots. It was a 34-14 victory where he received a good amount of help from Peyton Hillis, who had two rushing touchdowns. McCoy has 174 yards and a 16-yard rushing touchdown himself.
The following season, Colt McCoy would start 13 games, going 4-9 in those. He would rack up wins against the Colts, Dolphins, Seahawks, and Jaguars.
The Jaguars win was his last win as a Cleveland starting quarterback. The final score was 14-10. Colt had a 3 yard touchdown pass to Josh Cribbs. He finished the game throwing 17-of-24, 199 yards, a touchdown and pick.
Week 14 of this season would be Colt's final start as a Cleveland Brown. This was his infamous concussion game, full of controversy over the last drive. Despite getting a concussion, the Browns would make him go back out there and play concussed. Needless to say, the Browns would lose this game 14-3.
The 2012 season saw McCoy serve as a backup to Brandon Weeden. The following offseason he was traded to the 49ers. He would end his tenure with the Cleveland Browns throwing for 21 touchdowns, 20 picks, 4,388 yards, and a 58.3 completion percentage. His final record as the starting quarterback was 6-15.
No. 5: Josh McCown
If you were to look up "journeyman quarterback" in the dictionary, a photo of Josh McCown would appear. Josh was a third-round draft pick out of Sam Houston State by the Arizona Cardinals in 2002. Throughout his magical career, he would play for eight teams, and have a whopping 10 different jerseys. Josh has more NFL jerseys than his daughter has friends willing to wear said jerseys.
McCown would make his way to the Cleveland Browns in 2015 after his stint with the Buccaneers. Browns fans would soon learn why he had played for so many different teams. McCown wasn't the greatest quarterback, but he was tough as nails. Despite a 1-10 record as the Browns starter, his spot on this list is well deserved, and should maybe be higher.
His first start as the Browns quarterback was against the Jets, and helicopter Josh would make an appearance. Running into the end zone, McCown was flipped by future Brown DeMario Davis, ending up with McCown getting a concussion.
His sole win as a Browns quarterback could have been the best game of his career. It was a 33-30 victory over the Ravens at home. The veteran completed 36-of-51 passes for 457 yard with two passing and one rushing touchdown.
He was the first quarterback in NFL history to have a 450-plus yard game with two passing touchdowns, a rushing touchdown, and no interceptions. This performance earned him AFC offensive player of the week honors. The two passing touchdowns were caught by Gary Barnidge and Isaiah Crowell.
The rest of his career as a Browns quarterback would be riddled with losses and injuries, as he would eventually be cut in the 2017 offseason. Needless to say, McCown deserved a lot more. He has my personal admiration and has earned respect from many others around the league.
He finished his tenure with the Cleveland Browns throwing for 18 scores, 10 picks with 3,209 yards, and a 60.4 completion percentage.
No. 4: Tim Couch
The only first overall pick on this list, Tim Couch was selected by the Browns in the 1999 NFL draft. Couch also has the most starts out of any quarterback on this list for the Browns.
Many hoped he would be the future of the franchise, bringing the team back as an expansion team. Things would not pan out for Couch's NFL career, due to a variety of reasons. Some of those would not be his own doing.
Couch would start a whopping 59 games for the Browns, going 22-37 over those. His rookie year he went 2-12, which is the major outlier for a season for his starting record. He would be the only quarterback on this list to start a full season. That season was 2001, where he led the Browns to a 7-9 record. In 2002 he would start 14 games, going 8-6 over those. If the Browns would've been more confident in Couch, he may have been a pretty decent NFL quarterback.
2002 would be the last season the Browns would go to the playoffs, and it was Couch's best season as the starter. However, he would break his leg in the final regular season game, not being able to start in the playoff game. Kelly Holcomb would get the start. Couch threw fir 2,842 yards with 18 touchdowns and picks with a completion percentage of 61.6 in that 2002 season.
Kelly Holcomb would eventually take the starting job, ending the Tim Couch era in Cleveland. Couch would start his final game with the Browns Week 17 of the 2003 season against the Bengals, getting his final win for the franchise.