Cleveland Browns: Is success their biggest opponent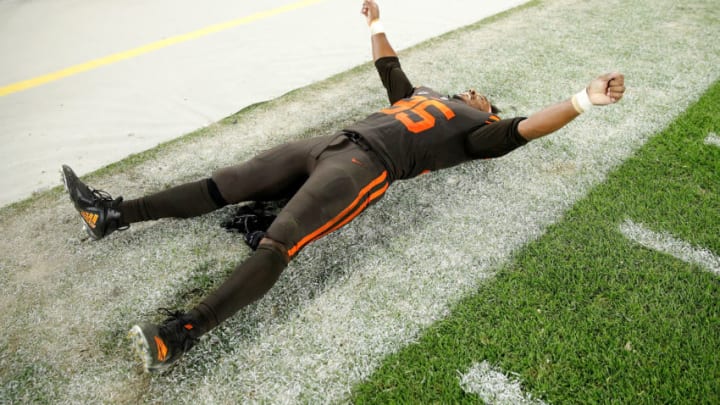 CLEVELAND, OH - SEPTEMBER 20: Myles Garrett #95 of the Cleveland Browns celebrates after a 21-17 win over the New York Jets at FirstEnergy Stadium on September 20, 2018 in Cleveland, Ohio. (Photo by Joe Robbins/Getty Images) /
The Cleveland Browns enter their week 4 game against the Oakland Raiders in an unfamiliar position. That is, they're coming off a win. Now the question is, who is their biggest opponent, the Raiders or their own success?
The Cleveland Browns have not exactly been an under-the-radar team. They made news in the off-season as general manager John Dorsey put his fingerprint on the roster, resulting in a turn over of more than 50 percent.
They made an appearance on Hard Knocks. They drafted a Heisman trophy winner as the new face of their franchise, and they saw two prospective contributors, Mychal Kendrick, and Josh Gordon, be released by the team under different, but equally unfortunate, circumstances.
Oh, and they just won their first game in over 600 days.
More from Dawg Pound Daily
For the first time in many years, Browns fans have reason to be excited. However, the question confronting the team as they prepare to take on the Raiders is are they ready to embrace success.
It seems like a silly question. After all, "you play to win the game", right? That may be true, but the Cleveland Browns don't really know what winning feels like.
John Dorsey has brought in some free agents who bring "some" playoff experience, but this is still a team that is trying to figure out who they are and who they can be.
Baker Mayfield brought an energy to the quarterback position that has been lacking in far too long. The defense has truly taken on the energy and emotion of their coordinator  Gregg Williams.
If nothing else, the Cleveland Browns have become a fun team to watch. You can almost sense how national analysts are rooting for this year to finally be the year that they truly become part of the NFL conversation in a meaningful way.
For the Browns to do that, they have to string together multiple wins. And that has to start this Sunday in Oakland. The schedule is difficult, but momentum is frequently an equalizer. It's time to find out if the Cleveland Browns can start to walk the walk.