Cleveland Browns News: Kareem Hunt and the issue of trust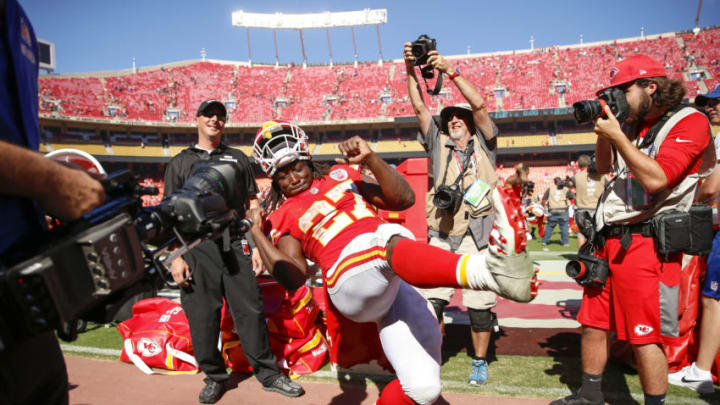 KANSAS CITY, MO - SEPTEMBER 23: Kareem Hunt #27 of the Kansas City Chiefs celebrates on the sidelines after a victory in the game against the San Francisco 49ers at Arrowhead Stadium on September 23rd, 2018 in Kansas City, Missouri. (Photo by David Eulitt/Getty Images) /
The Daily Dawg Tags bring you all the Cleveland Browns news you need to know, like the issue of trust when it comes to free agent pick up Kareem Hunt
In case you missed it, the Cleveland Browns made a roster move on Monday as they signed former Kansas City Chiefs running back Kareem Hunt. The same Kareem Hunt who was cut last season by Kansas City after a video surfaced of him shoving and kicking a woman in a Cleveland hotel.
Naturally, there has been a lot of reaction to the move. Many are upset as they feel Hunt hasn't had enough time to be punished for his actions '— which has merit considering he is still awaiting suspension.
Others look at the move for football purposes and understand why GM John Dorsey reunited with the kid he drafted just a couple of seasons ago. However, even with his history with the running back, Dorsey says trust must be earned.
More from Dawg Pound Daily
That story and more can be found in today's Daily Dawg Tags.
Cleveland Browns News
Dorsey: 'Trust has to be earned' from newly signed Browns RB Kareem Hunt — Andrew Gribble, ClevelandBrowns.com
""Trust has to be earned, and that has to be earned with the Cleveland Browns organization and the community of Cleveland moving forward. This will be a day-to-day thing in terms of earning trust.""
While Dorsey is right that trust has to be earned, he may have had an easier time trusting Hunt than other GMs did. That's because he was the one who drafted the running back out of Toledo in 2017 when he was still with the Chiefs. We will see how it all plays out, but Dorsey has never been one to shy away from the risky move.
Cleveland Browns' signing of Kareem Hunt spurs criticism from women's advocates — Ben Kesslen, NBC News
""Women don't matter to the NFL, which is rather surprising because they're a big part of the viewer audience," said the president of the National Organization For Women."
The Browns had to know this was coming when they signed Hunt. While he was cut by the Chiefs and will also serve a suspension, there will be those who never forgive Kareem Hunt for his past. Maybe in time, he will prove to be a changed man, but whichever team took a chance on him, the backlash was to be expected.
BAKER MAYFIELD Goes Off On Arian Foster …'I RESPECTED YOU BEFORE THIS' — TMZ
"More beef for Baker Mayfield … this time the Browns superstar is getting into it with Arian Foster — blasting the ex-NFL RB for being "too cool to show any personality.""
Baker is who he is. He's going to have a good time and he really doesn't care what people think. He let Arian Foster know that when the former running back sent out his tweet criticizing Mayfield for dancing. Yes…for dancing. Weird, isn't it?
Kareem Hunt signing great for Nick Chubb, Browns wide receiver corps
While many questioned what the signing of Kareem Hunt would mean for Duke Johnson and Nick Chubb, Mitch Zoloty came out and said he thinks it can be a good thing for the Browns as a whole — including the running backs already on the roster.