One final move the Cleveland Browns should make before the draft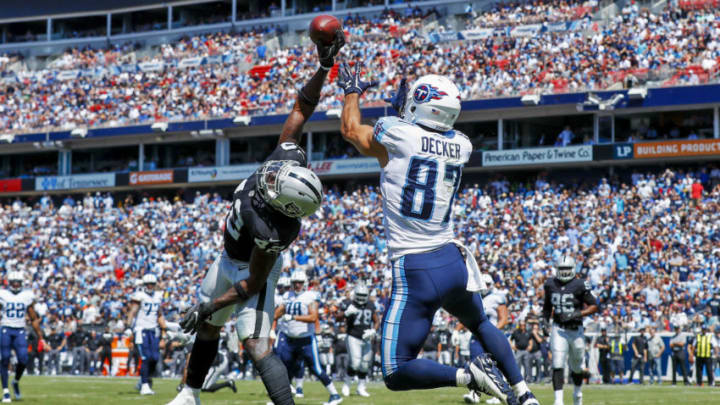 NASHVILLE, TN- SEPTEMBER 10: Safety Karl Joseph #42 of the Oakland Raiders deflects a pass intended for wide receiver Eric Decker #87 of the Tennessee Titans in the first half at Nissan Stadium on September 10, 2017 In Nashville, Tennessee. (Photo by Wesley Hitt/Getty Images) ) /
The Cleveland Browns have recently acquired some of the most talented players on the market. Here is one final move the Browns should make before the draft to turn themselves into a super bowl contender.
Cleveland Browns general manager John Dorsey has really outdone himself this off-season. He was able to acquire 26-year-old future Hall of Fame wide receiver Odell Beckham Jr, 28-year-old pro bowl edge defender Olivier Vernon, 28-year-old AP 2013 defensive rookie of the year and pro bowl defensive tackle Sheldon Richardson, and 23-year-old pro bowl running back Kareem Hunt.
He acquired all of this by only giving up elite offensive guard Kevin Zeitler, former first-round pick Jabrill Peppers, the Browns current first round pick (17th overall in the draft), and the Patriots third-round pick (95th overall). With Austin Corbett set to replace Kevin Zeitler, Jabrill Peppers is the only part from the deal that the Browns need to replace.
With the OBJ trade, Dorsey patched up the glaring need at receiver by creating a need at strong safety. 2016 4th round pick Derrick Kindred is currently slated to take over for Jabrill, and he has shown the ability to become a starter. However, his health should be a concern. The injury bug has been with Kindred most of his NFL career, as he has been on IR and the Non-football injury list back to back seasons.
More from Dawg Pound Daily
Kindred is a great backup at his position and being the backup is better for his health. The Browns should look to acquire the Raiders safety Karl Joseph to replace Jabrill Peppers. According to PFF, the Browns defense was the worst defense in tackling last season. Jabrill Peppers missed 11 tackles last season, compared to Karl Joseph's four.
Karl Joseph isn't perfect, though. He, like Kindred, has had the injury bug in his career too and hasn't been elite like his college tape says he should have been. However, he still is a very good NFL player. He was one of the bright spots on the Raiders defense last year.
The Raiders seem to be willing to trade Karl Joseph now. New head coach Jon Gruden and general manager Mike Mayock may want to get their own guys in the building, so Joseph may be on his way out. There were several rumors at the trade deadline last season that he was available. Mike Sando of ESPN had projected that he would be traded to the Titans for a 6th round pick at the trade deadline.
John Dorsey may have already given up two picks this off-season, but he has a good amount of picks left, including three in the fifth round (picks 144, 155, and 170). If I were John Dorsey, I would be more than willing to ship one of these picks off to the Raiders in exchange for Karl Joseph. Joseph is a hard-hitting strong safety and plays very similar to how Jabrill Peppers does.
The Browns defense needs a guy like Karl Joseph who can come downhill lay some wood. Big hits like the ones that Joseph deals out energize young teams and can be great momentum swings in games. For those interested in watching Joseph's abilities, here is a short clip of two hits he had in the same game on Melvin Gordon.
John Dorsey has a plan to get this Cleveland Browns team a super bowl ring, so do not worry if he doesn't feel the need to acquire Karl Joseph. However, when a man puts together a college as he did, it's hard to believe that Joseph couldn't be a very valuable resource to this Cleveland Browns team.
For more grades, advanced statistics and more at Pro Football Focus, subscribe
to PFF's EDGE or ELITE subscriptions at ProFootballFocus.com.