Tim Couch was not a Cleveland Browns draft bust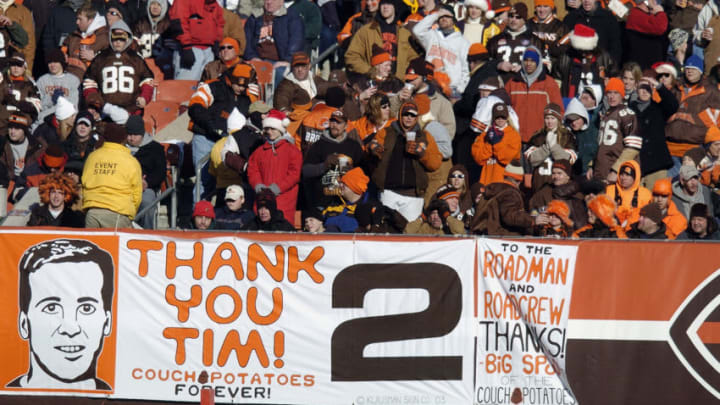 CLEVELAND - DECEMBER 21: Fans say farewell to quarterback Tim Couch #2 of the Cleveland Browns during the Browns last home game of the season at Cleveland Browns Stadium, which happened to be against the Baltimore Ravens, on December 21, 2003 in Cleveland, Ohio. The Ravens won 35-0. (Photo by David Maxwell/Getty Images) /
Not everyone that doesn't make it in the NFL is a draft bust. While the Cleveland Browns have made some bad choices, others just suffered bad luck with their health
Tim Couch and Courtney Brown were unfairly singled out for special ridicule by USAToday in an article about 13 greatest draft busts and disappointments. Three Cleveland Browns (Couch, Brown and Trent Richardson) made the list. This isn't fair and totally ignores the record of what happened to these talented players, both of whom had their careers cut short by injury.
In particular, Tim Couch was drafted in an impossible situation — recall he was the first overall pick for the expansion Browns of 1999 — and still led his team to the playoffs (Hello! Browns in the playoffs! Do you think that is easy?) before his career was ended by shoulder injuries. Likewise, Courtney Brown was emerging as one of the top defensive linemen in the NFL until undergoing knee surgery in 2001, and never recovered fully.
Now,  Trent Richardson, who also made the USAToday List , might be a more apt case for negative criticism. More about that later.
I don't know Henry McKenna from Adam, but it ticks me off when fellow sportswriters ridicule people for being injured and not making their goals. The athletes are not going to use injuries as an excuse, but we are not the athletes. We are the analysts, and we should know better than to throw people under the bus for getting injured, or being levied with unrealistic expectations. It seems very low to ridicule athletes for not recovering from injuries.
We also have to evaluate whether the athlete was at fault, or perhaps it was the front office that over-valued them. In Couch's case, head coach Chris Palmer had a fantasy that by changing Couch's grip on the ball, Palmer had transformed Couch into a Hall of Fame quarterback ("Here, Timmy, put some RPMs on it!"). Coach Palmer, that was insane.
Nevertheless, Couch proved that he was a viable starting quarterback because he led the Browns to the playoffs in 2002, but was no longer able to throw due to his torn up shoulder. Hello, sportswriters, do you understand that Couch led the Cleveland Browns to the playoffs in four years after their return to the NFL?
That's a huge accomplishment. It's not right to ridicule him in the national press for getting hurt, especially because the Browns terrible offensive line in those days was certain to get him injured. Couch led the NFL in getting sacked with 56 in his rookie year and was sacked 50 times in 2001. After 2002, he simply couldn't throw.
More from Browns Draft
As for Brown, he made the Topps All-Rookie Team. How horrible is that for a rookie year? In his second season, he had 4.5 sacks in his first five games, plus four tackles for loss, and four passes defended.
At this point, he was widely recognized as one of the top defensive ends in the NFL.  However, his season was ended by knee surgery, and though he was healthy enough to start in subsequent years, he never made it fully back. The player is never going to use injuries as an excuse, but as analysts, we should make more of an effort to be fair. What if we treated ordinary people the same way that we treat athletes? We could line up at emergency rooms around the country and boo the people who come in with injuries.
If people really want to read about the failures of highly talented athletes, Johnny Manziel is an infinitely better target than Tim Couch. Manziel had a few great games in his second year but completely self-destructed in the off-season. Manziel had two wins as an NFL starter, and though he did not wreck the league, he did wreck the team. That's a bust.
The selection of Manziel was foreseeably stupid, given that he was undersized, left school two years early and was known to have off-the-field issues.
Justin Gilbert was even more of a train wreck than Manziel, because he was the eighth overall pick and represented twice as much draft capital as Manziel at 22nd overall. Gilbert had very few if any of the warning signs that Manziel had.
He was a premier athlete with excellent speed and college credentials. But he also turned out to have had substance abuse problems, and was out of the league after two years with the Browns and on with the Steelers. He had three starts with the Browns. In no way was he remotely as accomplished as Courtney Brown who was a legitimate NFL star for his first 21 games before getting injured.
If it is necessary to compile all-time draft bust lists, Manziel and Gilbert are much more fitting than Couch and Brown, both of whom gave their all and sacrificed their bodies for the team. Ray Farmer is deserving of special mention since he brought both Manzeil and Gilbert to Cleveland.
Yet in 2012, the Browns did exactly the same thing, drafting two talents in the first round, with both whiffing. Trent Richardson was taken third overall and had a good-but-not-great rookie year with 950 yards and 3.4 yards per carry. He then drifted into obscurity, with two poor seasons with Indianapolis, in which he averaged only 3.1 yards per carry.
Richardson attempted a comeback this year with the Birmingham Iron of the Alliance of American Football (AAF) but probably did not do enough to warrant another shot with the NFL. It bears mentioning that Jim Brown, who may know something about running the football, was never a fan of Trent Richardson. Before the draft, he called him an "ordinary" running back.  You know what? Mr. Brown was right. Maybe the front office should have known better.
The same front office, with the late Tom Heckert and Nate Holmgren making the calls, selected Brandon Weeden in the first round, also in 2012. Weeden was 28 years old and had missed five years of development while he was off trying to be a professional baseball pitcher. This was another foreseeably stupid move by the Browns front office.
It is very questionable whether the unique pattern recognition and reaction skills of a quarterback can be learned if the opportunity is missed as an 18 to 22-year-old.  If you don't believe it, ask Akili Smith. There is no such thing as a 28-year-old rookie franchise quarterback.  Weeden should have been drafted in about the sixth round and could have become a valued backup, which he ultimately did become. But it's unfair to blame the athlete for the bonehead decisions of a team's front office.
Put it this way: any athlete who competes at the highest level of football is deserving of our respect. However, any front office who drafts a 28-year-old quarterback in the first round is deserving of our second guessing. And by the way, they also spent a second-round pick on Josh Gordon that year.
USAToday can write anything they want, and they may not care about my opinion or yours. However, in this reviewer's opinion, it is not fair to call injured players a draft bust. If the Browns need to have three players in the top 13, there are candidates that can qualify.  Tim Couch and Courtney Brown, however, are among those who are being maligned and do not deserve this criticism.