Way-too-early Cleveland Browns 2019 season predictions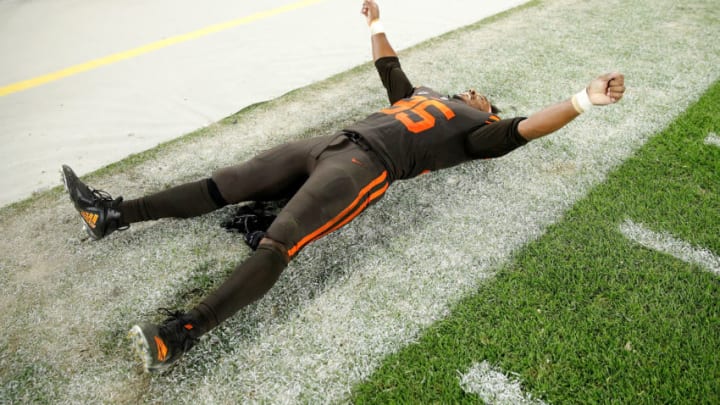 CLEVELAND, OH - SEPTEMBER 20: Myles Garrett #95 of the Cleveland Browns celebrates after a 21-17 win over the New York Jets at FirstEnergy Stadium on September 20, 2018 in Cleveland, Ohio. (Photo by Joe Robbins/Getty Images) /
KANSAS CITY, MO – SEPTEMBER 23: Head coach Kyle Shanahan of the San Francisco 49ers and the team training staff examine quarterback Jimmy Garoppolo #10 on the sideline after being hurt on a play during the fourth quarter of the game against the Kansas City Chiefs at Arrowhead Stadium on September 23rd, 2018 in Kansas City, Missouri. (Photo by Peter Aiken/Getty Images) /
Second Quarter
Week Five: @ San Francisco – Win
The 49ers should be a much better team this year, so the Browns will have their hands full in their second, and final, Monday Night Football appearance. Jimmy Garoppolo must feel a little bit like the forgotten man as injuries marred what many thought would be his coming out party last year. Instead, the 2018 rookie class, headlined by Baker Mayfield, stole the show. I'm sure that Garoppolo will be looking to remind the NFL why the 49ers traded for him and why, allegedly, the Patriots wanted to hold onto him. I expect another wild one with the Browns having enough offensive firepower to hold off the Niners.
Week 6: Seattle – Loss
Normally having a west coast team traveling east for a 1:00 p.m. start time is a sign to immediately pick the home team. The Browns will be playing on a short week and would have traveled back from the West Coast themselves. Seattle can run the football and that will be the difference in this game. The Browns lose their first home game in a match-up that is decided in the final minutes.
Week 7: Bye
Week 8: @ New England – Win
To say this is the most anticipated game on the Browns schedule would be an understatement. The schedule makers did the Browns one favor by putting this trip to New England after their bye week. At 4-2, but having lost two out of three, the Browns will be looking for a statement win, and I believe they will get it. The keys here will be a young team that will reflect the attitude of their head coach who doesn't care that this is a game the Browns aren't "supposed" to win. I expect to see aggressive play-calling with new plays put in during the bye week. The Browns empty the tank to get a win in Foxborough.
Week 9: @ Denver – Loss
I'll duck and cover as I pick this one. The schedule makers did not do the Browns any favors here. Playing New England and then Denver on the road in back-to-back weeks is daunting. Yes, Denver is not expected to be great. But this is not an easy place to play. Call it a let-down game, but I see this being a loss.
Second quarter record: 2-2
Overall record: 5-3