Cleveland Browns draft profile: Linebacker Ben Burr-Kirven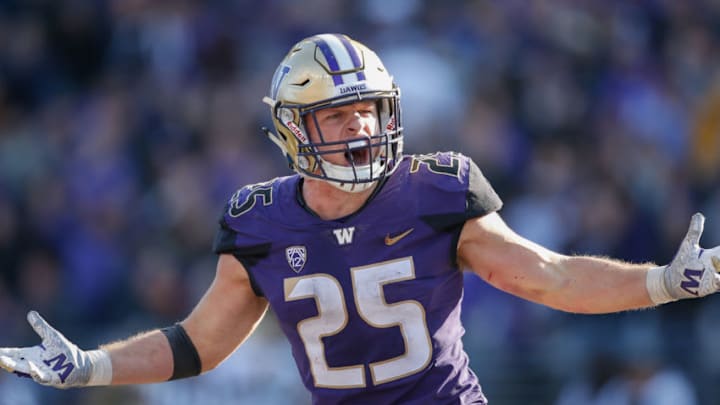 SEATTLE, WA - OCTOBER 20: Linebacker Ben Burr-Kirven #25 of the Washington Huskies reacts after making an interception in the fourth quarter against the Colorado Buffaloes at Husky Stadium on October 20, 2018 in Seattle, Washington. (Photo by Otto Greule Jr/Getty Images) /
Ben Burr-Kirven, sweet name. The man led the nation in tackles, by 21 tackles. If that doesn't tell you about his instincts, then I'm not sure what will. Let's dive deeper into the linebacker and see if he's a fit with the Cleveland Browns
The Cleveland Browns have done a good job finding linebackers in the mid-rounds in recent drafts. Here, we look at Ben Burr-Kirven as a potential draft prospect.
Let us start with some positives:
• Ben Burr-Kirven has the Football IQ/instincts to sniff out the ball which makes his shortcomings not so short.
More from Dawg Pound Daily
• He doesn't fall for play action, he is a downhill linebacker that will step up into gaps and meet running backs when it's up the middle.
• If he's not making the tackle he's the next man there
• Does well to drop back into zone in the middle and not give up many yards after the catch.
• Has the range to make plays on his half of the field
Some negatives:
• Poor block shedding
• Not often, but during the Ohio State game was caught in the second level by offensive linemen multiple times
• Over pursuit isn't necessarily a tendency but is something he has shown time to time.
• When tired may not lower shoulder when making a tackle and his teammates need to assist him.
"Steve he's short." As Browns fans, you will understand this explanation. Take Joe Schobert, make him an inch shorter, improve everything at the combine except his bench reps, double his production his last year of college, and then add-on top of that he has basic coverage skills with six passes defended which is six more than Schobert did his final college year.
Now, don't misunderstand me here. Schobert has had the chance to lead the league in tackles the last two seasons, but injury stopped that in 2018 after he tied for the lead the prior year.
I think Burr-Kirven can be even better, especially with a leader like Schobert in the locker room and someone as talented as him mentoring a rookie would make all the difference in his game. Burr-Kirven should be drafted and will play special teams initially but will end up gaining game reps because of his play throughout preseason, just as Schobert did.
A trait to me, that is often overlooked and undervalued is pure Football IQ.  It is overlooked to the point that athleticism reigns supreme and then people are shocked that a fourth-round pick is a starting linebacker in the NFL and has the potential to lead the NFL in tackles year after year.
Football IQ should be regarded above all else. A true student of the game will outsmart the athletic freak time and time again and make their ability useless.  What set JSchobert apart from the rest of the backups for the Browns was his ability to find the ball — Not his speed or pursuit angles.
Football IQ is what Ben Burr-Kirven has and for that reason, he should be on the Browns board during the upcoming 2019 NFL Draft.