Cleveland Browns: The 100 Year offseason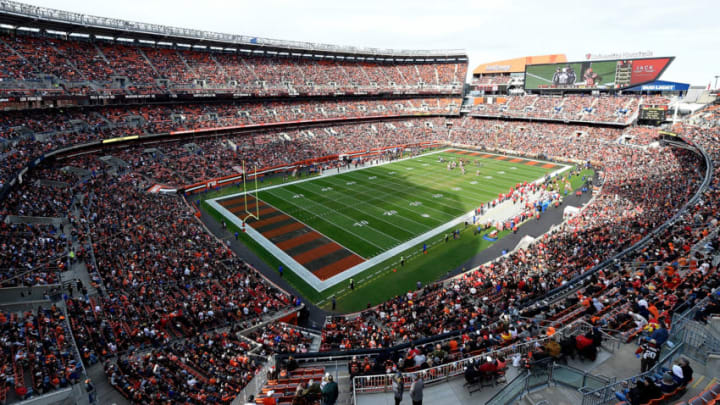 CLEVELAND, OH - NOVEMBER 04: A general view during the game between the Kansas City Chiefs and the Cleveland Browns at FirstEnergy Stadium on November 4, 2018 in Cleveland, Ohio. (Photo by Jason Miller/Getty Images) /
The Cleveland Browns have 108 days until they take the field in a meaningful regular season game. That is a long time when you have waited so long for success. The 2019 season can not get here soon enough.
Much in the same way that the phrase "Winter is Coming" was used in Game of Thrones, Cleveland Browns fans have kept telling themselves that "next year is our year" for the last two decades. Well, Dawg Pound winter is here…almost.
From the second the final whistle blew on the 2018 season, the countdown for 2019 began. Even coming off of a heartbreaking loss, the optimism of the fanbase was at an all-time generational high. Many fans, myself included, would have gladfully rolled into the 2019 season with the exact same roster, with the addition of a few rookies, and liked our chances. John Dorsey was not among those who shared that sentiment.
In the 144 days since the end of the 2018 season, Dorsey has added several high-end talents to the roster via trade and through free agency. The addition of Odell Beckham, Sheldon Richardson, Olivier Vernon, and Kareem Hunt to a roster that is already full of outstanding young talent is more than enough to excite even the most pessimistic of Browns fans. The anticipation of what could, and should, be is something the Cleveland Browns franchise and its loyal supporters haven't experienced in 30 years.
More from Dawg Pound Daily
The return to relevance has been a welcome change, but until the Browns take the field and prove they have indeed arrived it is all just "in theory". The 2019 season cannot come soon enough.
108 days. 108 days until Baker Mayfield and company open the regular season in First Energy Stadium. 108 days until they can prove to the world that it isn't just talk. That it's not smoke and mirrors. 108 days is a long time from now and it's even longer when the anticipation is as palpable as it is.
Many things can and will happen in those 108 days. Training camp will open, pre-season games will be played, some players that we think will make the team will be cut, or traded, and the roster will be whittled down to the 53 players that will be your 2019 Cleveland Browns.
Albert Einstein said that time is relative. That statement certainly explains why this has been the longest off-season in the franchise's storied history. The anticipation of what lies in front of this 2019 team has nearly caused time to come to a complete standstill.
Is this what the fanbases of successful franchises go through every year? If so, I guess these are the kinds of problems that we want to have. We have been patient for so long and now it's time to reap the rewards. After all, good things come to those who wait.