Josh McCown Retires: Here were his 3 best Cleveland Browns games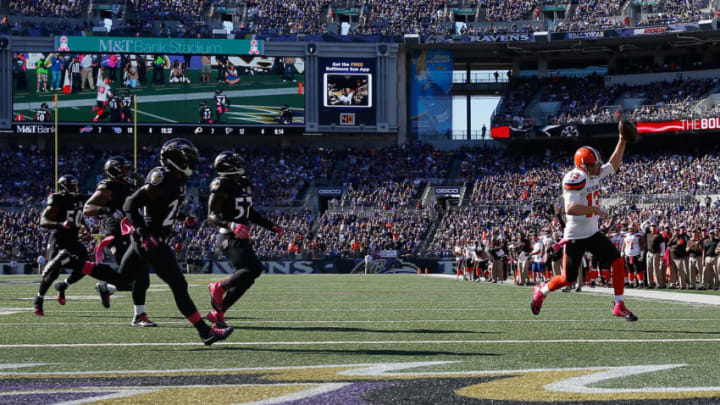 BALTIMORE, MD - OCTOBER 11: Quarterback Josh McCown #13 of the Cleveland Browns rushes for a second half touchdown against the Baltimore Ravens at M&T Bank Stadium on October 11, 2015 in Baltimore, Maryland. (Photo by Rob Carr/Getty Images) /
CLEVELAND, OH – SEPTEMBER 20: Former Dallas Cowboy quarterback Troy Aikman talks with Josh McCown #15 of the New York Jets and Baker Mayfield #6 of the Cleveland Browns prior to the game at FirstEnergy Stadium on September 20, 2018 in Cleveland, Ohio. (Photo by Jason Miller/Getty Images) /
Josh McCown rarely got the credit he deserved during his 17-year NFL career, but he had his moments. Here were his best games with the Cleveland Browns.
Since returning to the NFL in 1999, the Cleveland Browns have had some rather unfortunate luck in trying to find a franchise quarterback. They finally found a guy to believe in with the No. 1 overall pick in 2018 as they took Baker Mayfield, but it was a long, rough road before that.
In fact, the Browns had 29 different quarterbacks start under center for them before finally landing Mayfield. Names such as Tim Couch, Kelly Holcomb, Derek Anderson, Jeff Garcia, and Brandon Weeden all came and went with no one being able to take the reins for long.
However, there was one name in the mix that fans really felt a connection to — Josh McCown. The experienced veteran joined the Browns for a short time, playing for them in 2015 and 2016.  A strong leader on the field, McCown had unmatched grit and won over everyone with his relentless style of play.
McCown joined Cleveland after one season with the Tampa Bay Buccaneers, a team that signed him following a strong stretch of play with the Chicago Bears. Unable to turn his short-lived success into a long-term starting job, McCown continued his journeyman status as a trusted backup.
As was often the case with him though, he ended up being pressed into action several times for the Browns. He joined Cleveland at the age of 36 and started 11 games in his two seasons. The team was 1-10 with him under center but his numbers were respectable.
Despite struggles all around him, McCown completed 60 percent of his passes for 3,209 yards with 18 touchdowns and 10 interceptions. Following his departure from the Browns, he headed to the New York Jets for the past two seasons and now is calling it a career as he announced his retirement on Monday.
With all that being said, we look back at the three best games he had during his short, but respected tenure with the Browns.