Cleveland Browns: Baker Mayfield's paper roster comes to life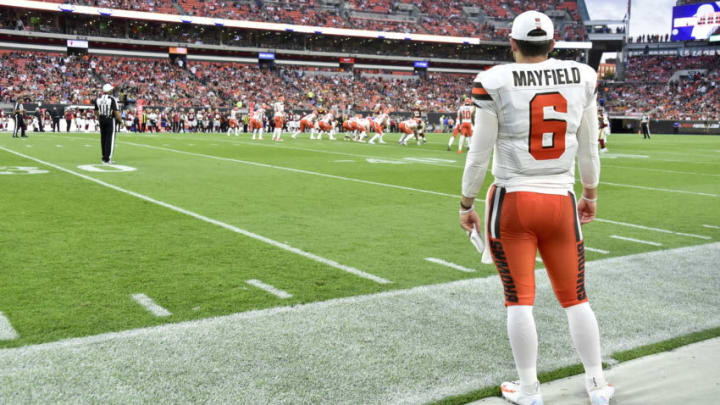 CLEVELAND, OHIO - AUGUST 08: Quarterback Baker Mayfield #6 of the Cleveland Browns watches from the sidelines during the first half of a preseason game against the Washington Redskins at FirstEnergy Stadium on August 08, 2019 in Cleveland, Ohio. (Photo by Jason Miller/Getty Images) /
The Cleveland Browns roster has looked good on paper all offseason but now Baker Mayfield and his teammates proved it looks good on the field too
Turns out Baker Mayfield's Cleveland Browns are more than just a paper roster.
All the haters (mostly fans of the other AFC North teams) who tuned in to see the Browns get spanked by the Washington Redskins in their first 2019 preseason game last Thursday were forced to watch Baker and his mostly second-string targets ride the two-minute drill 89-yards down the field, capped off by an eye-of-the-needle dime for six in the Browns' eye-popping opening drive.
Ha – take that, ya haters.
More from Dawg Pound Daily
Then try to imagine what Mayfield'll do with Odell Beckham, Jarvis Landry, David Njoku and Kareem Hunt in the mix.
"Eh, who cares? It's preseason against a bunch of second-stringers…"
Sorry, ya haters, but you have to be a Browns fan to understand how important that opening drive was.
Let's break it down for those outside the loop.
Every July in Cleveland for almost the last two decades, Browns fans have been reluctantly convinced that "this is gonna be our year" and then every August they start to play and it becomes extremely obvious that it's probably not.
One big reason for that is because, for most of those last two decades, the Browns have not had a legitimate franchise quarterback.
It took the various Browns front offices almost twenty years and twenty-eight tries before John "Bout to Get a Statue" Dorsey finally had the vision (and sack) to draft 'undersized' Baker Mayfield first overall.
And this, his second NFL season (and his first as the initial starter), is when Mayfield's Cleveland reign is scheduled to begin.
That opening drive last Thursday night was Mayfield's coming out party as the Browns' true starter and the fact that he orchestrated such a precision (and huddle-less) touchdown drive out of the gate without Beckham or Landry or Njoku is its own victory, mostly for what didn't happen.
Multiple holding penalties didn't negate any of those sweet gains.
A fumble or an interception didn't snuff the buzz prematurely.
A critical injury to a key player didn't foreshadow (yet) another dismal season.
Horrible calls by the refs didn't undo any of the magic.
Bottom line, Mayfield's Brownies were dazzling, even without their playmakers, and Freddie Kitchens' solid play calling and game management answered any and all doubts in his ability to ringmaster this talented Cleveland circus.
That beautiful opening drive was a clear sign of things to come, of what will be for now on in Cleveland, which is the Browns as a well-quarterbacked, well-coached, well-executing professional football team.
And besides a Lombardi Trophy and heated stadium seats, that's all Browns fans have ever really wanted.
So sorry (not sorry) if we get a little giddy at watching the Browns being brilliant.
"Eh, act like you been there, stop going crazy over every little thing."
You see, ya haters, unlike your favorite team with its fairly recent history of postseason (and even Super Bowl) victories, our favorite team hasn't been to the postseason but once since the end of last century, so excuse us (not) for predicting good things to come.
The bubble of football hope that offsets the bubble of football despair in Cleveland is now officially swollen thanks to Dorsey and Baker and the rest.
And the paper roster that got us all excited these last few months came to life last Thursday evening and these Cleveland Browns showed us by a score of 30-10 that our cry of "this is gonna be our year" may finally ring true.
Take that, ya haters.