What's holding back Odell Beckham, Jr.?
The Cleveland Browns have not been getting the production from Odell Beckham, Jr. they were expecting. What is the reason for this?
Although Odell Beckham, Jr. has been a star player for the Browns, he's not putting up the same numbers that he did in New York. This article explores why that it is and the implications for the future of the team.
First of all, this is not going to be an article to bash OBJ, who from all accounts has been virtually a model citizen with the Browns, a positive influence on younger players and he has played his heart out, and he has put up very numbers, but short of the All-Pro level that was expected.
Mostly we are seeing a bad match between a receiver who likes to go down the field and an offensive line that cannot provide time for this to happen. Some of it is also scheme related, because the Browns are a running team and the GIants for most of Beckham's career, struggled with the run. Finally, it is not the age of a car, but the mileage and Beckham has put on some hard mileage.
Through 12 games, Beckham has 815 receiving yards, which extrapolate to a pace of 1,087 yards. That is good for 23rd in the league, which means that he is significantly above average. But it would be remiss to overlook the extent to which he has drawn double coverage, which is the main reason why Nick Chubb and Kareem Hunt are making yards behind an underperforming offensive line. OBJ deserves credit for the yards that Jarvis Landry is getting this year that he could not get last year when he was the top receiving threat.
That said, he is not getting paid $95 million over five years in order to be "significantly above average." In New York, he posted 1,450 receiving yards one year, and 1,367 the next. He was one of the most dominant receivers in the NFL. His specialty was the one handed leaping grab of deep balls thrown by Eli Manning.
Eli would comply with Beckham's needs by launching the deep ball on a regular basis. Sometimes they would be thrown to the fellows with the wrong colored jersey on, and sometimes they were a little inaccurate so that OBJ would have to adjust his route. But it worked.
Eli-to OBJ was by far the Giants' best weapon, but that is not necessarily the best or most balanced plan for the Browns. The Giants won some games with Beckham in the lineup, but overall the team lacked a running game prior to Saquon Barkley joining the team. As a team they had good passing yardage but also accepted the risk of interceptions with the downfield passing attack.
Because this year's Browns team cannot protect Baker Mayfield, they are forced to construct a short range offense. The deep ball is not necessarily the centerpiece of this offense, especially when you have guys like Nick Chubb and Kareem Hunt around.
Mayfield throws a better and more accurate ball than Manning at this point in his career. When you stop and think about it, the highlight reel catches occur when the quarterback throws a ball that is off target, but just barely catchable.
A perfectly thrown pass is not quite as dramatic as an inaccurate pass that the receiver has to adjust and fight for. OBJ is still making catches, but he has had fewer off target throws to rescue with the highlight reel catch.
Second, if Odell is one of the nest in the NFL at spectacular catches, he is not necessarily the best at getting open in under 2.0 seconds, which is often all the time that the O-Line can give Mayfield. In that skill, Jarvis Landry truly excels, and so for that reason is not surprising that Landry is producing more receptions and yardage. Landry is on pace for 1,238 yards, which is good for tenth in the league and he might well end up in the Pro Bowl again. He owes some of that to OBJ, however.
Third, and here is where it starts to get critical, we have to face the fact that the superstar may not be quite at the same level he was a few years ago. During summer camp it came out that Beckham was having some problems with his hip, so much so that he would only run at full sprinting speed during games. That is not a good sign.
For one thing, anyone experienced with physical conditioning knows that maintaining maximum sprint speed means that the athlete does, in fact, have to run sprints during training, and he has to run a lot of them. If Beckham's practices are limited it will have to affect the power of the afterburners. It may be hard to pick up on film, but he might be half a step slower and not quite as quick with some of his moves.
Statistically, this is borne out by reviewing his receiving yards per snap. How many yards did he gain while he was actually on the field? His performance measured by total receiving yards divided by total snaps is shown below.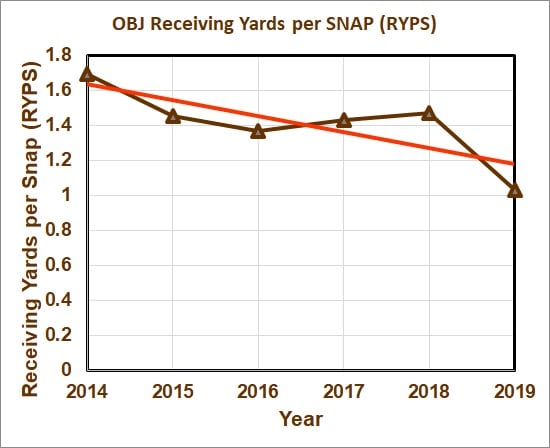 This chart shows that on a per-snap basis, OBJ is gaining significantly fewer yards than he was gaining for Eli Manning and the Giants. Perhaps Manning was not holding back OBJ so much after all.
He is also making fewer catches as shown in the next figure, which is also on a per-snap basis.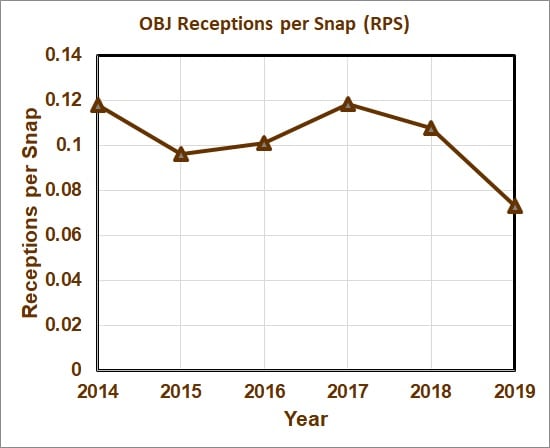 Perhaps the most alarming stat is that OBJ is not hauling in passes with the same catch percentage that he did earlier in his career. It could mean that he is not open and so Mayfield is having to throw the ball away more often to avoid sacks.
For the first 12 games in 2018, OBJ is at only 55.3 percent, which is lower than any of his previous seasons in the NFL. That is the part that is most concerning. To put that figure in perspective, Greg Little had a catch percentage of 56.4 percent his second year, catching passes from Brandon Weedon.
Again, it's deceptive because OBJ is in fact often double-teamed, and he gets charged with throwaway balls when Mayfield is trying to avoid a sack. Still, OBJ has overcome similar obstacles in the past.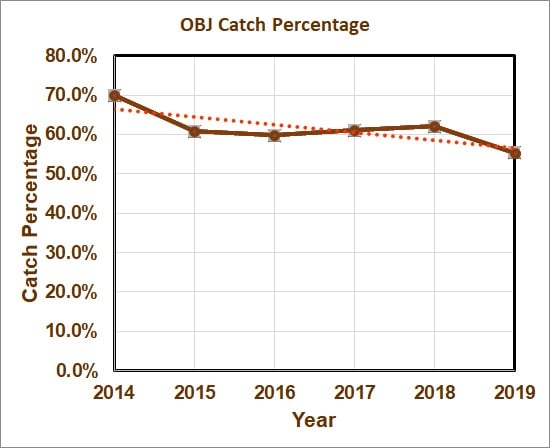 Although Beckham has been a very good performer for the Browns, a lot is expected when you give up a number one draft pick, a former number one draft pick in Jabrill Peppers, and agree that you will spend $15 million dollars a year on a player.
That has to be a special player, a guy who can be among the league leaders and make the Pro Bowl every year. The numbers say that, rather than jumpstarting his career by getting out of New York, his performance is actually tailing off.
The deal was made based on the expectation that the Browns had a shot for the Super Bowl THIS YEAR, and the team overspent the cap allowance by thirty million dollars to sign players like OBJ and Vernon.
This team is very far from being a Super Bowl contender, and that is not the fault of OBJ. Thus they cannot be trading away first-round draft picks and good players like Peppers, and they certainly cannot be spending $15 million year on the salary cap if they want the team to improve in a sustainable way. The rosters for 2020 and beyond rosters have been weakened by those losses.
Odell has been very good but not great. The trade to get him here gave up way too much, and the 2020 team will be feeling the hurt. It will be an interesting off-season. One scenario Dorsey can try to trade him, maybe to a team like New Orleans a team trying to extend its dominance for another year, and get out from under the salary cap.
Another option would be to go the other way, and refinance deals for OBJ, Vernon, and others to backload salaries. They could clear cap room in 2020, while essentially robbing from 2021 and beyond. That could allow the team to add even more star salaries in 2020.
Eventually, there will be hell to pay and the team will need to be rebuilt again, a la Sashi Brown 2.0. But if they really think that 2020 was their only chance for a Super Bowl ring, they might do it.