Cleveland Browns News: The hiring and firing fatigue is legit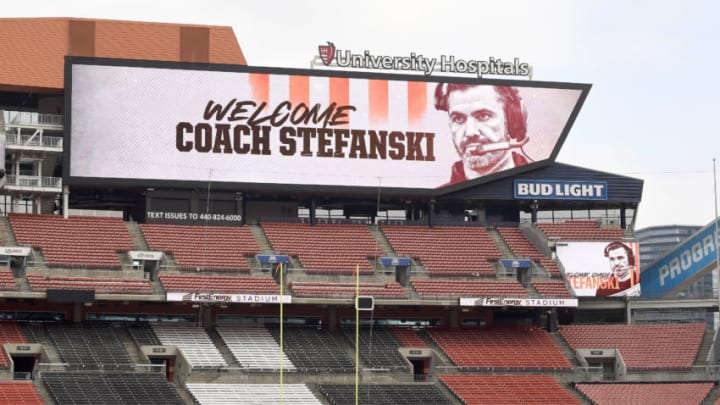 CLEVELAND, OHIO - JANUARY 14: A message for Kevin Stefanski on the scoreboard at FirstEnergy Stadium on the day he is introduced as the Cleveland Browns new head coach on January 14, 2020 in Cleveland, Ohio. (Photo by Jason Miller/Getty Images) /
The Daily Dawg Tags bring you all the Cleveland Browns news you need to know including a story about how much fatigue the constant hiring and firing causes
Every offseason has started to feel the same for fans of the Cleveland Browns. This franchise finished the 2010s as the only NFL team without a winning season, which in itself is tiring.
Making it feel worse is the constant offseason talk about how things will get better. From the analytical approach of Sashi Brown, to the 'football guy' taking over in John Dorsey, and back to the analytical guy in Paul DePodesta, the fans have been through it all. And they continue to go through it.
Beyond the frustration of rooting for a struggling team, going through the same motions year after year is also legitimately tiring. Which is what Terry Pluto discusses in today's main story on the Daily Dawg Tags.
More from Dawg Pound Daily
Cleveland Browns News
Dealing with firing/hiring fatigue that comes with being a Cleveland Browns fan — Terry Pluto, Cleveland.com
""QUESTION: Haven't we heard all of this before?ANSWER: That's the same question a few veteran media members asked after sitting through the press conferences announcing the firings of GM John Dorsey and coach Freddie Kitchens, followed by the hirings of the new front office and coaching staff.""
Terry Pluto looks at how the fans are once again going through the same motions they did when John Dorsey was hired. And when Freddie Kitchens was named head coach. Which also felt similar to when Sashi Brown was named GM. And when Hue Jackson was named head coach. Yes, the 'it will get better' talk is frustrating and fans have to be tired of hearing about it. Hopefully, this season brings more than just talk.
Surprising tackle in NFL Draft considered best fit for Cleveland Browns
The usual suspects for the Browns at offensive tackle have been Andrew Thomas, Jedrick Wills, and Mekhi Becton. However, Dan Justik looks at a new name that has been popping up in USC's Austin Jackson.
Browns Mailbag: Which position might not need addressed in the draft? — Andrew Gribble, ClevelandBrowns.com
""There's two ways to answer this question. There's the easy way by saying quarterback, punter or kicker, and there's the not-so-easy way by excluding quarterback, punter and kicker from the discussion. We'll go with the latter, and we're going to make it even harder by picking a position on both sides of the ball.""
Gribble digs deep into the roster and looks at some positions of strength such as running back and possibly wide receiver. He also discusses the state of the defensive line, which is strong on the edge as long as Myles Garret and Olivier Vernon are both on the field.
5 possible replacements if Cleveland Browns don't re-sign Joe Schobert
There's no guarantee the Browns are going to bring back Joe Schobert this coming season. He's played his way into a big contract and Cleveland might balk at paying it. If so, Justicer Sunderland gives us five potential replacements to get familiar with.