Cleveland Browns fans, are you not impressed yet with Andrew Berry?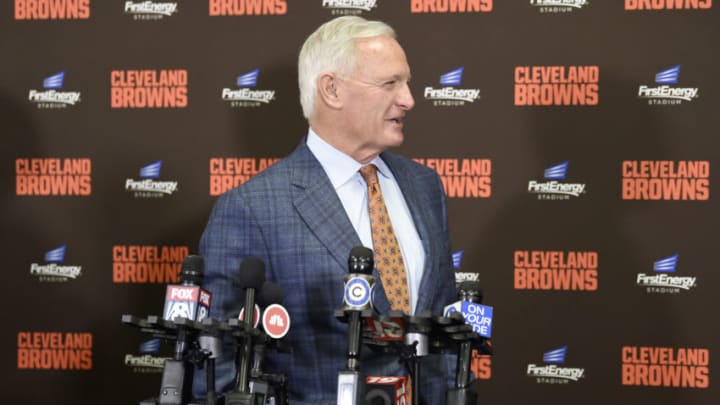 CLEVELAND, OHIO - JANUARY 14: Jimmy Haslam owner of the Cleveland Browns addresses the media after he introduced Kevin Stefanski as the Browns new head coach on January 14, 2020 in Cleveland, Ohio. (Photo by Jason Miller/Getty Images) /
After a complete regime change in 2020, some Cleveland Browns fans were hesitant with the hiring of Andrew Berry. While he may be the youngest general manager in the league, he is turning heads.
John Dorsey was easy to fall in love with if you are a fan of the Cleveland Browns. From 2012 to 2016 fans watched Michael Lombardi, Ray Farmer, and Sashi Brown draft players like Trent Richardson, Justin Gilbert, Johnny Manziel, and Corey Coleman… trust me this is the shortlist.  Not mentioned were Brandon Weeden, Cameron Erving, and Barkevious Mingo.
Dorsey brought life to Cleveland and drafted talent that looks to last in Myles Garrett, Baker Mayfield, and Denzel Ward. Don't forget about the powerful free agency signings and trades he made for Olivier Vernon, Odell Beckham, Damarious Randall, and Sheldon Richardson.  However, Dorsey's power clearly became too much when he decided to hire a head coach he could control, vs. one with experience.
With a talented roster in 2019 and only six wins, someone had to take accountability. Owner Jimmy Haslam decided that Dorsey and head coach Freddie Kitchens would both be the scapegoats and fired both after the 2019 season.
Rightfully so, in 20 years of watching the Browns, I have never seen a team so dysfunctional as last season. Constant pre-snap penalties and a lack of effort plagued the season, and almost became unwatchable for fans.
Did the Browns finally get it right?  It kills me to say, but yes, they finally did. At age 32, Berry has shown that he can be both analytical and aggressive at the same time. Dorsey was not afraid to spend money but was often irresponsible and was more focused on now versus the future.
Berry, on the other hand, was able to bring in the best offensive tackle and tight end on the market to Cleveland in free agency on team-friendly deals. Both are highly sought-after players, signed fair value contracts, and were extremely friendly to future cap space of the team.
Not only has Berry set up Cleveland to be successful in 2020, but he has also set them up to be successful in the future. Thursday night in the first round of the draft was no different. For this first time, the full organization had a plan, and they stuck to it, which stems from Berry.
Fans were nervous that Cleveland would trade back and not solve their whole on the offensive line, but it was all a smokescreen, and a well done one at that. Because of strategic decisions by Berry, the Browns now have a tremendous offensive line to protect Baker Mayfield and a ton of weapons to get the ball to.
Cleveland fans are tired of all the change and are often the butt of jokes because of it, but this time is different. You will see a different team on the field in 2020 and it all starts with the culture that has changed upstairs. The Browns are lucky to have gotten Berry before someone else did.