6 ways to make crowd-less Cleveland Browns games more bearable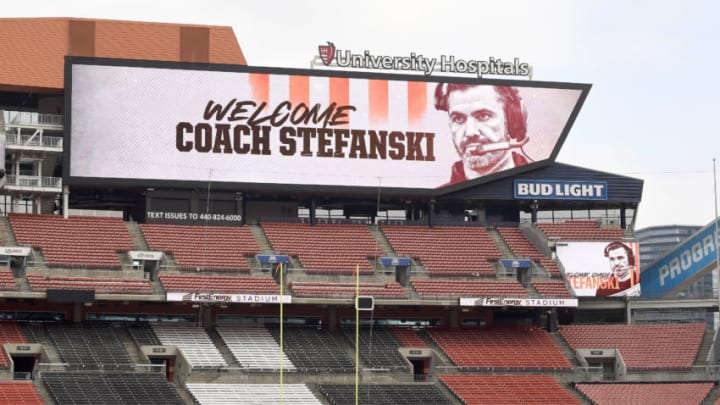 CLEVELAND, OHIO - JANUARY 14: A message for Kevin Stefanski on the scoreboard at FirstEnergy Stadium on the day he is introduced as the Cleveland Browns new head coach on January 14, 2020 in Cleveland, Ohio. (Photo by Jason Miller/Getty Images) /
Baker Mayfield #6 of the Cleveland Browns – (Photo by Andy Lyons/Getty Images) /
Crowdless Cleveland Browns games suggestion no. 5) Kill the TD celebrations, they'll fall flat
If a touchdown is scored in the middle of a forest, is all that dancing and celebrating really necessary? Or will it feel like when you sing in front of the mirror?
Lots of Browns fans do love the post-score Broadway productions that some of these players have spent their valuable time choreographing, but it won't be nearly as much fun for 'Hollywood' Higgins to walk his imaginary red carpet if the crowd he's pumping up is equally invisible.
Might be a good time to get back to crossing the goal line and casually tossing the ball to the ref like it was no big deal to score, ala Jim Brown.
Crowdless Cleveland Browns games suggestion no. 6) Give Jim Donovan and Doug Dieken their own Booger-Mobile
Ex-player turned NFL color commentator Booger McFarland would call the MNF games from the 'Booger-Mobile,' an easy chair contraption elevated by hydraulics that could be driven around the stadium. Why not give Browns radio announcers Jim Donovan and Doug Dieken their own mobile front row seat to call the games?
Velcro strap a comfy leather love seat to a giant fork lift for Jim and Diek with Nathan Zegura at the wheel, have all three wearing mini-cams. Call it the Dawg-Mobile – spray paint it burnt orange and seal brown and cover it with CBD stickers.
At halftime, they could even do coverage of Zegura making the Dawg-Mobile do 360's in the empty parking lot. Be fun to hear Donovan squealing with glee, "Chubba Wubba Whoaaaaaaa!" while Diek adds a stoic, "He has a second gear."
There are plenty more possibilities, of course, but the point is to take advantage of this not-so-ideal reality we've been forced into and use it to elevate the broadcasting quality of live football. That's what trying these (and other) bold suggestions could possibly deliver.
Orrr…could be a total shyte-fire and us fans at home will be screaming, "Just play the damn game! Geez…"
Regardless of how the NFL broadcasts end up looking and sounding in 2020, every Cleveland fan gets what's truly important in all of this confusion and uncertainty…
There WILL be Browns football.