Cleveland Browns must prepare for new economic reality in NFL post-Covid Era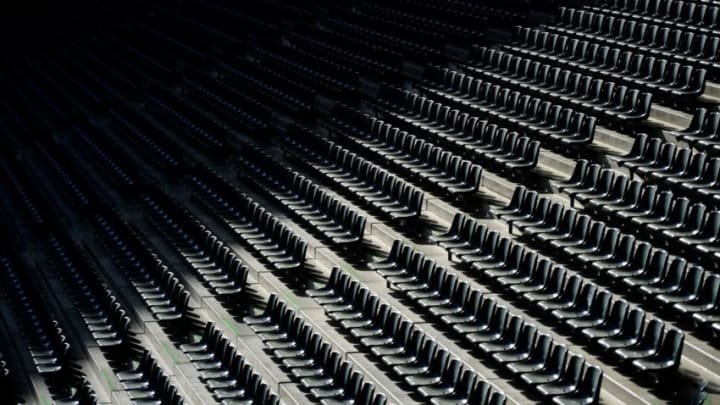 Empty seats are seen at the Borussia Park football stadium in Moenchengladbach, western Germany, on April 16, 2020, amid the novel coronavirus COVID-19 pandemic. - Large-scale public events such as football matches will remain banned in Germany until August 31 due to the coronavirus crisis, Berlin said on Wednesday, April 15, 2020, though it did not rule out allowing Bundesliga games to continue behind closed doors. (Photo by Ina FASSBENDER / AFP) (Photo by INA FASSBENDER/AFP via Getty Images) /
Covid 19 will drag down revenues for the Cleveland Browns and the NFL, The new reality is the cap will decrease in 2021 and adjusting to it will be chaos.
The Cleveland Browns, like the rest of the NFL, must prepare for a new economic reality now during the Covid crisis, but there will be a new normal even after the disease is finally controlled. The local stores and restaurants may reopen, there may be stimulus checks in the bank, but that does not mean that NFL stadium are going to be packed with happy fans as they were in the pre-Covid era.
According to Investopedia, each team received about $255 million in national revenue from the NFL. Most NFL teams do not share financial information, but the Green Bay Packers local revenue, which consists of ticket sales, concessions, and corporate sponsorships, was $196 million in 2018
In 2020 alone, there is some chance that football will be played without crowds due to social distancing. That would be a bitter pill. Hence the local revenue is taking a severe hit due to tickets and luxury boxes.
More from Dawg Pound Daily
According to Statista.com, the average NFL ticket was about $102 dollars; so a 60,000 average capacity with 10 dates per year would result in $61 million dollars which would be lost. Perhaps a like amount of luxury box revenue will also disappear. Even if the national revenue stays reasonably intact for a few years, leaguewide revenues have to go down by around a quarter. Even if full attendance is permitted however, many fans are not going to have the bucks to spend on sports.
The NFL salary cap is based on revenues using a complicated formula, but we can estimate that the cap is going to go way down next year. Based strictly on the loss of local revenue, it might be guessed as a worst-case scenario that the cap might go down by about a quarter, or $150 million from its current level of $199,200,000. The league and the NFL Player's Association might negotiate something less draconian, but it could get very bad if stadiums are forced to stay empty.
This may not be a one year phenomenon, even if, hopefully soon, Covid-19 is controlled. Perhaps a vaccine might eradicate the threat. Does that mean that revenues will immediately jump back to normal? That is impossible.

Although some fans will just throw a mental switch and immediately go back to their previous habits, other fans will be facing a new economic reality, due to a loss of revenues at their businesses. Many jobs are not coming back right away. Some jobs may never come back, and businesses will be lost. The experts are saying it may be years before the American economy returns to the highs of the past several years. Everyone is going to hurt, including sports leagues and even the NFL.
To be candid and blunt, revenues are just going to suck. Even TV revenues may be poor. If the economy is poor, commercials on football games may not generate as much sales, so advertisers will spend less. TV contracts will experience downward pressure for the first time in years. Re-negotiation is not out of the question.
What does this mean for the team now and in the near future?
One possibility is that effective immediately, skilled highly paid free agents may no longer command multi-year, multi-million-dollar contracts. Players like Jadeveon Clowney, Everson Griffen and Larry Warford are Pro Bowlers, but teams are not exactly falling all over themselves to give them huge offers. There is a dawning realization that they simply are not as valuable as they thought, and the rich multiyear contracts may simply not be there this year. Suddenly, they may have much less value, especially since for whatever reason NFL teams picked 2020 to spend out much of their existing salary cap.
For that matter, the Browns may soon realize that Olivier Vernon is overpaid in light of the overall cap picture. Vernon's agent, David Canter of DEC Management, might need to renegotiate a lower contract value, much as Chris Hubbard did earlier this off-season. Or he may be like fellow defensive ends Clowney and Griffen, sitting on the sidelines, too stunned to admit that they do not have the value that they expected.
Barring some sort of miracle, all teams are going to have to shed payroll next year. They have not even begun to consider a formula for handling existing obligations. For example, the Browns have contractual obligations for $182 million dollars in 2021. Can they be refinanced to fit within a much smaller salary cap? How will that work?
Right now, nobody knows, and they are only beginning to ask the questions.
Also, what if some owners are hit especially hard by the economic situation in their other businesses and suddenly cannot pay the bills for their NFL teams? It is not crazy to speculate that some people who were cash billionaires could be simply ruined by the Covid-caused upheaval.  Does the league have a plan in case teams are not able to pay their bills?
This is the time to step up for Harvard economics majors in the front office, namely Chief Strategy Officer Paul DePodesta and general manager Andrew Berry. Top brainpower is needed to figure out the path forward in a period that promises to be uncertain if not completely chaotic.
In the near term, they need to figure out how this affects salary cap cuts around the league, and it might even work in the Browns favor, because they do have carryover dollars to afford more than other teams can.
Until there is some clarity on 2021 and beyond, however, it is going to require some creative contracting to make a multi-year deal.