Does history favor the Cleveland Browns in 2020?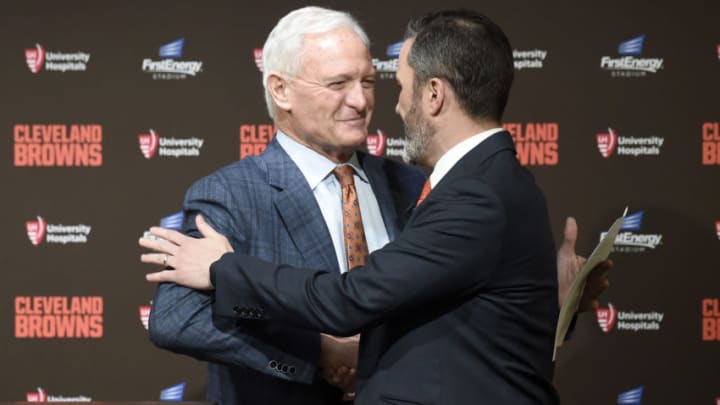 CLEVELAND, OHIO - JANUARY 14: Team owner Jimmy Haslam shakes hands with Kevin Stefanski after introducing Stefanski as the Cleveland Browns new head coach on January 14, 2020 in Cleveland, Ohio. (Photo by Jason Miller/Getty Images) /
CLEVELAND, OH – SEPTEMBER 20: Baker Mayfield #6 of the Cleveland Browns looks to pass during the fourth quarter against the New York Jets at FirstEnergy Stadium on September 20, 2018 in Cleveland, Ohio. (Photo by Jason Miller/Getty Images) Baker Mayfield /
Cleveland Browns vs. New York Jets
All-time record: Browns 15 – Jets 12
The Cleveland Browns and New York Jets have had a long history. The two teams played in the first Monday Night Football game in 1970. And the teams played a double overtime thriller in the divisional playoff after the 1986 season. In the expansion era, the Browns have played 11 times with the Jets having a 6-5 lead.
The Browns have won the last two games in the series including one of the most  memorable games played on Thursday Night Football in 2018. That was the night when Baker Mayfield made his regular season debut. It was also the Browns first win after 19 consecutive winless regular season games. Once again beer factored into the game. With the win, Bud Light unlocked a series of coolers throughout the city giving Browns fans free beer.
Cleveland Browns vs. Las Vegas Raiders
All-time record: Raiders 15 – Browns 10
The Browns and the Raiders are two of the most storied franchises in the National Football League. The history between these two teams have seen the Browns battle the Raiders in Oakland, Los Angeles, and not this year – but soon – in Las Vegas. The Browns are on the short end of the all-time history. However, since the Browns returned to the NFL in 1999, the Browns hold a 6-5 lead.
However the Raiders have won the last two matchups including the heartbreaking 2018 overtime loss that ended largely due to a controversial call that took away an apparent first down by running back Carlos Hyde.