Jadeveon Clowney to the Cleveland Browns won't go away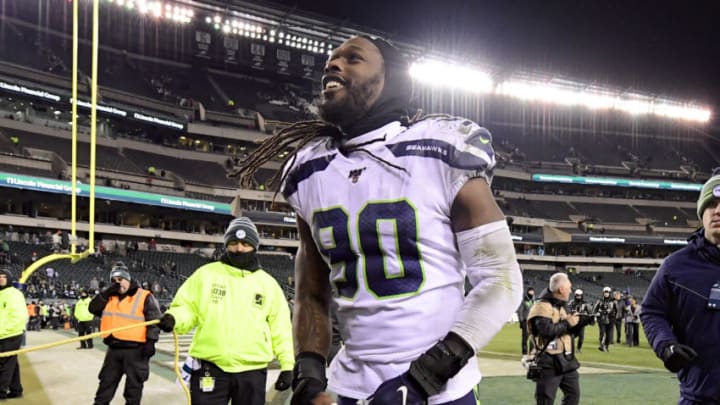 PHILADELPHIA, PENNSYLVANIA - JANUARY 05: Jadeveon Clowney #90 of the Seattle Seahawks celebrates victory after his teams win against the Philadelphia Eagles in the NFC Wild Card Playoff game at Lincoln Financial Field on January 05, 2020 in Philadelphia, Pennsylvania. (Photo by Steven Ryan/Getty Images) /
Surprising to many, Jadeveon Clowney is still looking for a home in 2020.  Many experts still think the Cleveland Browns could be a potential landing spot.
General manager, Andrew Berry, has been extremely aggressive adding talent to the Cleveland Browns this offseason. There are now reports that he could be closing in on another huge addition, defensive end Jadeveon Clowney.
The pass rusher from the Seattle Seahawks is perhaps the biggest mystery this offseason. Clowney originally came out saying he wanted $20 million per year, and now may come at a much bigger discount to a suitor as he remains on the market late into May.
Yahoo Sports' Charles Robinson shared on the "Pat McAfee Show" this Monday that the Browns not only have interest in Clowney, but it could be long-term interest.
More from Dawg Pound Daily
""He's still in a situation where he may need to sign a one-year, prove-it deal. But I think the Browns are interested in him longer term than that," Robinson said on the Pat McAfee Show. "And if he's going to sign a reduced deal, I'm telling you right now that's a one-year deal. He's not going to take some contract where someone is going to pay him $14 million per year." — Robinson on the Pat McAfee Show"
What does that mean for Olivier Vernon? Well, his $15.5 million salary for the 2020 season becomes guaranteed on June 1, 2020, so the Browns would have to act quickly if they wanted to release him. But the Browns do have options.
With $37 million of cap space remaining for 2020, the Browns could sign Clowney to a one-year deal and keep Vernon. That duo paired with Myles Garrett and Adrian Clayborn coming off the bench would be the most feared defensive line heading into 2020 but would still have much to prove.
Clowney has been in the league six years and has only played one full season. Additionally, Vernon has only played a full 16 game slate in three of his eight NFL seasons. Let's also not forget, Garrett is coming off a suspension where he missed the final six games of the season after an ugly incident vs. the Pittsburgh Steelers last season.
With all three out to prove so much, this could be a recipe for dominance by the Browns defensive line. There's also a risk that all could potentially miss games because of injuries. There's no way the Browns can afford all three of these rushers long-term, but there is a scenario where the Browns could enjoy all three for one season.
Don't look for the Browns to commit to Clowney as a long-term player. The price tag is too high, and the better investment is in Garrett. However, with the money to spend, a one-year investment would make a ton of sense for the Browns and Clowney. The Browns could fork out $15 million to Clowney, and he can prove to teams he is worthy of the $20 million per year deal next offseason.
Not only would Garrett, Clowney, and Vernon be a force up front, the defensive line would now have additional depth in case of an injury. It's time for Berry to go all-in for the 2020 season and make a move.