Cleveland Browns Adrian Clayborn: The greatest NFL single game performance you don't remember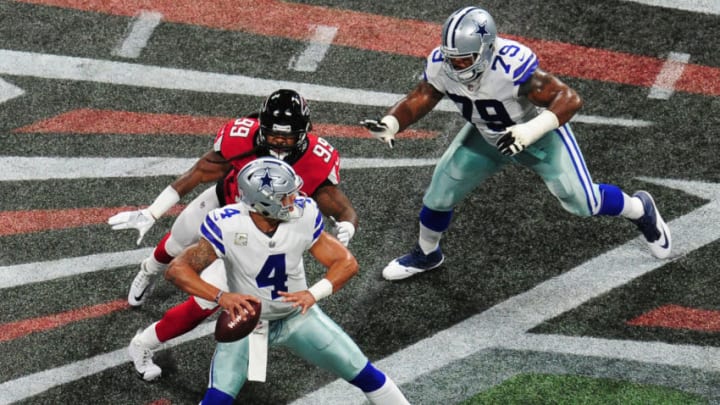 ATLANTA, GA - NOVEMBER 12: Dak Prescott #4 of the Dallas Cowboys passes despite pressure by Adrian Clayborn #99 of the Atlanta Falcons at Mercedes-Benz Stadium on November 12, 2017 in Atlanta, Georgia. (Photo by Scott Cunningham/Getty Images) /
New Cleveland Browns defensive end Adrian Clayborn currently is tied for the second-most sacks in a single game in NFL history.
Flashback to the 2017 season. It's a sad day, as the Cleveland Browns just lost to the Detroit Lions by a final score of 38-24. The Browns are now 0-9 at this point, and most Browns fans probably suffered through enough NFL football after that game. However, something magical would go on to happen down in Atlanta.
A feat that had not been done since 2007, and before that, you have to go back to 1998 to find another occurrence of this. A player who would wind up being on the Browns just a few years later would put together a literal once in a decade performance. Adrian Clayborn and the Atlanta Falcons would play host to the Dallas Cowboys, who were without starting left tackle Tyron Smith.
Backup left tackle Chaz Green, the former third-round pick by the Cowboys would be starting in his place. Green had some promise early in his NFL career but was nowhere prepared for what was about to come his way.
More from Dawg Pound Daily
Adrian Clayborn to this point in his career had been a career backup. A former first-round pick by the Tampa Bay Buccaneers, the most sacks he had in a season up to 2017 was 7.5 in his rookie year in 2011.
He had not started more than 8 games up since 2013, and Cowboys left tackle Chaz Green probably didn't mainly focus on defeating Adrian Clayborn's pass rush moves. This is where Green would make his fatal mistake.
The last time that an NFL player had totaled 6 sacks in an NFL game was 2007, and it was Giants great Osi Umenyiora in the prime of his career. No one besides maybe Adrian Clayborn was expecting the performance he was about to have.
As the intelligent veteran, he is, Clayborn clearly meticulously studied his opponent in Chaz Green and was more than prepared for their matchup. Clayborn would help the Falcons secure a 27-7 win over the Dallas Cowboys.
Finishing with a stat line that is something straight out of Madden, Clayborn had totaled six sacks, two forced fumbles, one fumble recovery, along with three tackles for loss and six total tackles. An absolute monster of a game, the NFL hasn't seen a stat line of that nature since Clayborn's miraculous performance that day. We're likely to not see another performance of that magnitude for at least a decade.
This performance shows what kind of player the Browns could be getting out of Adrian Clayborn as a backup defensive end. The odds of him posting another six sack game are astronomically low, but he will most likely continue to use the same process that got him to that performance.
Clayborn has proved throughout his career that he is an invaluable backup to have, and his preparation will help the Browns pass rush reach even higher levels of production than ever before.
If you're missing some football highlights and want to watch Clayborn's performance, I've linked it here.