Countdown to 2020: Best Cleveland Browns player to wear No. 89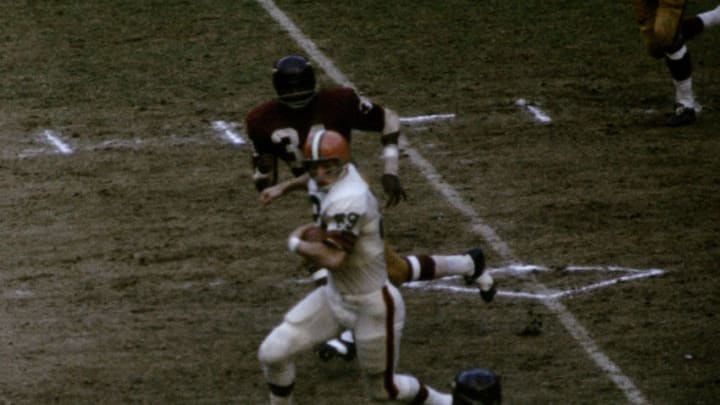 Cleveland Browns tight end Milt Morin (89) runs with the football after making a catch during the Browns 24-21 victory over the Washington Redskins on December 8, 1968 at RFK Stadium in Washington, D.C. (Photo by Nate Fine/NFL) /
The Cleveland Browns have a rich and illustrious history. With only 89 days until the Browns season opener, we look at the best Browns player to ever wear number 89.
The countdown to the 2020 NFL season is upon us. With 89 days remaining until the Browns season opener, we continue the countdown by celebrating the best Cleveland Browns player to ever wear number 89 — Milt Morin.
Milt Morin was selected by the Cleveland Browns with the 14th overall pick in the first round of the 1966 NFL Draft out of the University of Massachusetts. Morin was the first player from UMASS to ever be drafted in the first round of the NFL Draft.
Morin had quite the resume coming out of college. He earned seven varsity letters through three different sports while at UMASS: football, lacrosse, and wrestling. Morin also played defense and was the team's placekicker in his senior year in addition to his duties as the team's tight end. Morin was elected to the College Football Hall of Fame in 2010.
More from Dawg Pound Daily
The rookie tight end went to a highly successful Browns team who were perennial playoff contenders who had just won a championship two years prior. Morin was immediately the Browns' most productive tight end. His rookie year saw him haul in 23 receptions for 333 and three touchdowns. His numbers were deceptive, as the Browns did not utilize their tight ends in the passing game, which was common for the era.
Morin struggled to stay healthy in his second season as a Brown, but in his third season, he became one of the best tight ends in all of professional football. Morin started in all 14 games and hauled in 43 receptions for 792 yards and five touchdowns. His numbers were enough to earn him his first Pro Bowl nomination.
Morin remained one of the most consistent tight ends in the NFL over the course of the next six subsequent seasons and was one of the Browns leading receivers in yards and receptions year in and year out. Morin earned his second and final Pro Bowl nomination in 1971.
Morin played 10 seasons in the NFL, all with the Browns, and started in100 games for Cleveland. He remains in the top 10 in Browns' franchise history in both receiving yards and average yards per reception to this day. His 271 receptions and 4,208 yards are second all-time for a tight end in Browns' history behind only Hall of Famer Ozzie Newsome.
Milt Morin is by far and away the best player to ever wear the number 89 for the Cleveland Browns.