Can the Cleveland Browns outrush the Ravens in 2020?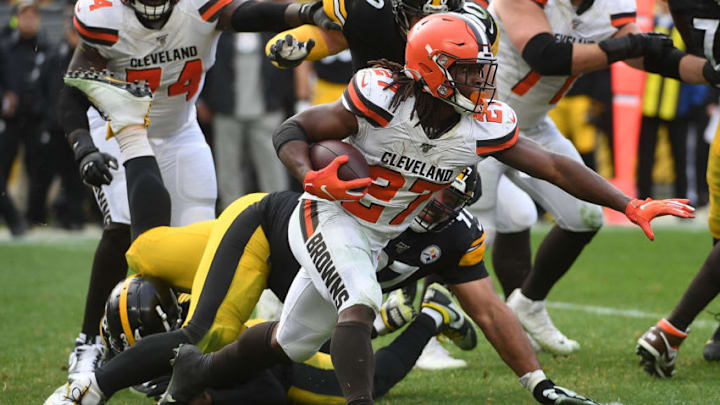 PITTSBURGH, PA - DECEMBER 01: Kareem Hunt #27 of the Cleveland Browns carries the ball in the second quarter during the game against the Pittsburgh Steelers at Heinz Field on December 1, 2019 in Pittsburgh, Pennsylvania. (Photo by Justin Berl/Getty Images) /
The Cleveland Browns have the talent to rush for way over 2,000 yards if they put their minds to it.
Do the Cleveland Browns have what it takes to match the Baltimore Ravens ground game? The Ravens had the world's best offense in 2019 by the numbers. They scored 531 points, which was 80 more points than the runners-up, Patrick Mahomes and the Kansas City Chiefs, could imagine. That is a staggering difference.
They did most of their damage on the ground. This writer, though decidedly anti-Ravens by fan loyalty, has been an advocate for Lamar Jackson since the 2018 draft. Some people think it is an insult to call him a running quarterback, but you know what? A touchdown counts six points on the ground or through the air.
Jackson is complemented by Mark Ingram, who turned in a 1,000 yard season, and they also drafted J.K. Dobbins, the 2,000 yard rusher last season with Ohio State. They still have Gus Edwards and Justice Hill. Last year they racked up 3,296 yards on the ground, led by Jackson with 1,206, a record for a quarterback.
More from Dawg Pound Daily
Is there any way the Browns can compete with them? This is truly mission impossible, but the Browns do have some tools to work with.
The main problem with the 2019 Browns was they did not want to run the ball. Reader, would you like to guess where the Browns ranked in rushing attempts last year? Would you believe 22nd in the NFL? They had a full year of Nick Chubb, who should have led the NFL in rushing with 1,494 yards and a 5.0 yards per carry average, but finished second to Derrick Henry, who eclipsed him on the last day.
They also had half a year of Kareem Hunt. A few years ago, Hunt turned in 1,327 rushing yards and another 455 receiving yards. Amazingly, however, the Browns got only 179 yards rushing from Hunt last year.
Put it this way, the Ravens atomic punch of Ingram and Jackson was much more powerful than Chubb and Hunt. Hunt did catch 37 balls for 285 yards, making catches out of the backfield and also lining up in the slot like Le'Veon Bell, if that's what the Browns want him to do. Hunt should be good for 1,000 yards on the ground, not 200.
Baltimore kills with their depth, getting quality yards on the ground from their third and fourth best runners, namely Edwards (711) and Hill (225 yards). Comparing that to the Browns, Dontrell Hilliard had only 49 yards and D'Ernest Johnson had only 21.
The table below shows total snaps, rushing yards and yards from scrimmage as well as rushing yards per snap and yards from scrimmage per snap. Also included for reference are Hunt's previous numbers with Kansas City, and Dobbins' numbers with Ohio State last year, which frankly are terrifying. How did the rest of the NFL screw up again and allow this player to fall to the Ravens? The major deficiency of these stats, of course, is that it does not show the effectiveness of the player as a blocker, and Hunt impressed observers as a blocking fullback last year.
Browns                    Snaps  Rush yds  YFS    RY/snap   YFS/snap
Nick Chubb               715     1,494       1,772     2.09        2.48
Kareem Hunt           309       179         464        0.58        1.50
Dontrell Hilliard      129         49          141        0.38         1.09
D'Ernest Johnson     45         21            92         0.47         2.04
Hunt, 2017              665    1,327        1,782      2.00         2.68
Hunt, 2018              502      824        1,202        1.64         2.39
Ravens                   Snaps  Rush yds  YFS    RY/snap   YFS/snap
Mark Ingram           504    1,018      1,265       2.02           2.51
Lamar Jackson       971     1,206      1,206      1.24            1.24
Gus Edwards          397       711         756        1.79            1.90
Justice Hill               187       225        295         1.20            1.58
J. K. Dobbins (OSU) 741   2,003      2,250       2.70            3.04
Nevertheless, the numbers show some interesting comparisons. First, there is a huge drop-off behind Chubb, as nobody else on the Browns produced rushing yards when they were on the field. Chubb's 2.09 rush yards per snap was more than three times as high as Hunt's 0.58. Hilliard and Johnson were worse. This suggests the Browns were actually phobic about letting anyone else run the ball.
Because of his receiving ability, Hunt's production was not terrible, but still dropped off significantly from his superstar numbers of 2017, when he was every bit as good as Chubb. In this writer's opinion, he is a better runner than any player on the Baltimore Ravens, but last year he was outperformed by FOUR Ravens: Ingram, Jackson, Edwards and Hill. The Ravens' team concept and depth make their running game superior to Cleveland's, rather than the runners at the top of the depth chart.
The Ravens were able to be productive no matter who they put in the backfield. They were not hesitant to give any one of three runners the ball, AND they had Lamar Jackson. We also have not mentioned Patrick Ricard, who went to Hawaii as a fullback, without contributing much to the visible rushing stats, almost like an offensive lineman (a very good offensive lineman, to be sure).
Looking at the numbers, Ingram was the alpha back, and was comparable to Chubb in terms of production. When the Ravens lost to the Chargers in the playoffs last year, the story line was to blame it on the quarterback, but having Ingram injured might have hurt them more than most fans realized. In any case, the Ravens rested him frequently during the season, giving him only 504 snaps compared to 715 snaps for Chubb.
Cynics may say the Browns cannot do what the Ravens do because there is only one Lamar Jackson, and to some extent that is true. But consider this: the Ravens had 596 rushing attempts last year, and 196 of them were from quarterbacks Jackson and RG3. Thus, non-quarterbacks had 400 rushing attempts last season.
The Browns, on the other hand, rushed the ball only 362 times using non-quarterbacks. In other words, even without Jackson, the Ravens ran the ball more often than the Browns did last year! Face it, the Browns did not like to run the ball last year and only did so because Chubb was so good they felt more or less compelled to do so.
If you take away Jackson's 1,206 yards, the Ravens still rang up 2,090 rushing yards without him. But the Browns as a team put up only 1,901 yards (1,760 yards without Mayfield, for an apples-to-apples comparison). That's pathetic. The Browns running backs should at least outperform the Ravens running backs.
Chubb is not broke, so head coach Kevin Stefanski, offensive coordinator Alex Van Pelt and running backs coach Stump Mitchell do not have to fix him. They probably do have to consider what the team was doing with Hunt last season as they attempted to transform him from a star to a backup player. If he can be Kareem Hunt again then the Browns top two runners can go up against the Ravens top tandem.
So what is wrong with Hilliard and Johnson? Both had blocking miscues early last season that caused Baker Mayfield to have near-death experiences. The judgment of the Kitchens staff was the problems were severe enough they could not risk having either one in the backfield for significant carries, even though both were good at catching the football out of the backfield and made a few yards carrying the ball as well.
Kitchens, after all, was the running backs coach in 2018 and knew the running backs very well. This preseason, the Browns have to decide whether the young backs can be developed as pass blockers or not. If they are going to get Mayfield killed, they have to go, regardless of how good they are at catching screen passes.
If they can find Hunt and a professional number three running backs like Baltimore, they can reduce Chubb's workload and increase his yards per carry. Remember, the Browns are also bringing on a true fullback his year in Andy Janovich, and upgrading the tight end position with Austin Hooper. The Browns are upgrading both tackles with Jedrick Wills and Jack Conklin.  Right guard is a matter of some controversy but there is nothing wrong with Wyatt Teller. This is a better offensive line. Austin Hooper is a better tight end than Ricky Seals-Jones, and they have  a legitimate fullback.
Is it crazy to think Chubb is going to be good for an extra half yard per carry this season? If so, Chubb will go to Hawaii, Hunt should go over 1,000 yards from scrimmage, and the Browns will be a top-five rushing team. The Browns should feel humiliated their running backs were outproduced by Baltimore's last season (without Lamar Jackson that is) and they actually have to bring some depth to their running game.