Countdown to 2020: Best Cleveland Browns player to wear No. 45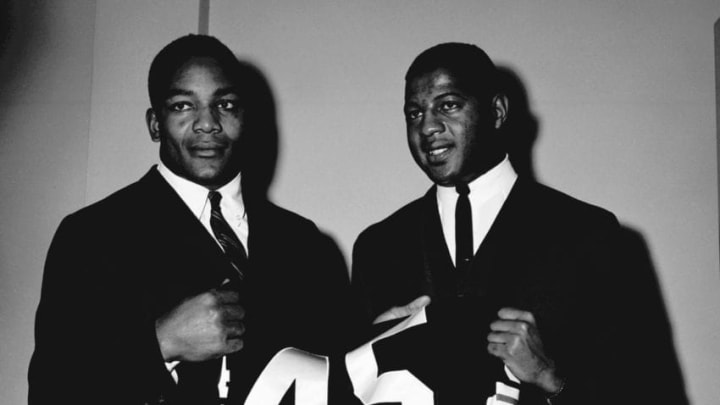 HIRAM, OH - JULY, 1961: (L to R) Runningbacks Jim Brown #32 and Ernie Davis #45, of the Cleveland Browns, poses together during training camp in July, 1961 at Hiram College in Hiram, Ohio. Both Brown and Davis were runningbacks at Syracuse University and wore uniform number 44. (Photo by: Henry Barr Collection/Diamond Images/Getty Images) /
The greatest 45 for the Cleveland Browns never played a game for them
The countdown to the 2020 NFL season is upon us. With 45 days remaining until the Browns season opener, we continue the countdown by celebrating the best Cleveland Browns player to ever wear No. 45: Ernie Davis.
The story of Ernie Davis is one that has been told countless times. Davis' story is remarkable, it is inspiring, and ultimately it is tragic. The young man who was known as the 'Elmira Express' only lived to be 23 years old, but the impact Davis left behind still remains almost 60 years later.
Davis was born in New Salem, Pennsylvania on December 14th, 1939. At the age of 12, Davis moved to Elmira, New York and for the first time in his young life, he was able to participate in organized sports. He excelled at every athletic endeavor he chose to attempt. While at Elmira Free Academy, Davis was a star athlete in baseball, basketball, and football. Davis gained nationwide recognition for his athletic exploits and was named a high school All-American in both basketball and football.
The decision on which sport to pursue at the next level was a simple one for Davis. He could have played any sport that he chose to, but football was ultimately where Davis' heart lied. He was recruited by numerous high-profile colleges, but when Syracuse University threw their hat in the ring it became a one-horse race.
Syracuse had one thing that no other college could offer, Jim Brown as a recruiter. Brown had just wrapped up an exceptional collegiate career at Syracuse and had been drafted by the Browns. When Brown personally met with Davis to ensure him that Syracuse could do for him what it had done Brown, Davis enrolled in the upstate New York University.
Traditionally, in that era, freshmen played on the freshman team and then they would be eligible to play with the varsity as a sophomore. Syracuse head coach, Ben Schwartzwalder, wanted Davis to practice with his varsity Orangemen his freshman year. He believed that Davis would develop more practicing with older players and that his team would get better from just going against Davis in practice.
When Davis got the chance to play as a sophomore, he was immediately one of the best running backs in the entire country. Davis, who was bestowed with Brown's old number 44, gained 686 yards on the ground and scored 10 rushing touchdowns in 1959 while leading Syracuse to an undefeated record and the opportunity to play the University of Texas in the Cotton Bowl. The winner would be crowned National Champions.
Davis, with an injured hamstring, scored a touchdown on the third play from scrimmage, hauling in a pass and taking it 87-yards for a touchdown. He would later score another touchdown, as well as two two-point conversions to extend Syracuse's lead. Texas attempted to rally, but fell short, thanks in part to an interception from Davis; that's right, he played defensive back too.
Davis was named the 1960 Cotton Bowl MVP and was told he could accept the award but would not be allowed to stay at the banquet because of the color of his skin. The entire team, who had just won the school's first-ever National Championship, boycotted the banquet. Davis finished his first year of playing college football outscoring Syracuse's opponents 80-73 by himself.
'The Elmira Express' would go on to break all of Jim Brown's records at Syracuse. Davis ended his college career with 2,386 rushing yards, 3,306 total yards from scrimmage, and scored 220 points. Even though his senior season was not his greatest statistical year, he was named a finalist for the Heisman Trophy.
Davis' body of work could not be denied and was named the Heisman Trophy winner in 1961. He was the first African American to win the award. It was not just a victory for Davis, it was a victory for an entire race of people that had been overlooked for far too long.
From there, he would go on to be the first player selected in the 1962 NFL draft by the team formerly known as the Washington Redskins. Washington's owner George Marshall would immediately trade Davis' rights to the Browns in exchange for Cleveland's first-round choice, Leroy Jackson and future Hall of Famer, Bobby Mitchell. The trade meant that Davis would share the backfield with his friend and hero, Jim Brown.
In a tragic turn of events, Davis would fall ill while in San Francisco for the East-West Shrine Game and would later be diagnosed with Leukemia. Despite fighting the cancer into remission for a brief period, Davis would eventually succumb to the disease. On May 18, 1963, Davis passed away at the age of 23.
Davis was inducted to both the College Football Hall of Fame and the Football Foundation Hall of Fame. The football field inside of Syracuse's Carrier Dome was named 'Ernie Davis Legends Field' in 2010. Davis also had a book written about his life story by Robert C. Gallagher titled The Express. The book was later adapted into a motion picture of the same name in 2008.
The Browns retired the number 45 in Davis' honor. He only got to wear it on the field one time during a preseason game, where the former college standout was honored.
While Ernie Davis ultimately never took a snap for the Cleveland Browns, he is the best player to have ever worn the number 45 for the storied franchise.