3 Dream scenarios for the Cleveland Browns 2020 season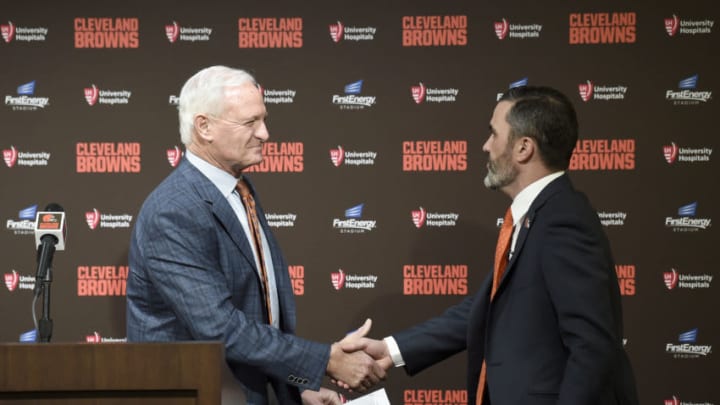 CLEVELAND, OHIO - JANUARY 14: Team owner Jimmy Haslam shakes hands with Kevin Stefanski after introducing Stefanski as the Cleveland Browns new head coach on January 14, 2020 in Cleveland, Ohio. (Photo by Jason Miller/Getty Images) /
MEMPHIS, TN – SEPTEMBER 03: Jonathan Wilson #38 of the Memphis Tigers is blocked by Drew Forbes #76 of the Southeast Missouri Redhawks on September 3, 2016 at Liberty Bowl Memorial Stadium in Memphis, Tennessee. Memphis defeated Southeast Missouri State 35-17. (Photo by Joe Murphy/Getty Images) /
Veteran Releases Before the Season:
With the news that Andrew Billings (defensive tackle) and Drew Forbes (offensive guard) would opt out of the 2020 season because of COVID-19, the Browns front lines on both sides of the ball took a hit. Neither are pro-bowl caliber players, but both provided an extra layer of starting-caliber depth that is all so important in the NFL.
The big guys up front are constantly getting tangled up with each other and having solid back-ups is crucial. While it is dangerous to plan a season around injuries happening, it is also inevitable that they will occur.
Each year before the final roster is set, a fair number of veteran players will get cut to make room for rookies or to help maintain cap space. With the cap space the Browns have for 2020, they could certainly be in the market to pick up a number of those free-agent veterans.
Not only would the Browns be in the market for a defensive tackle and interior offensive lineman, but they could also use some help at linebacker as well. It doesn't appear that Andrew Berry is going to spend a ton of money on these needs, but a veteran who has one year left in the tank may be willing to play for a discount if he believes in the Browns front office.
With no preseason and a shortened training camp, you may see fewer veteran cuts in 2020. Rookies often prove themselves during the preseason so teams may go the safer route and maintain an older roster with only seeing players in pads a limited number of practices. If the Browns could just find some additional depth at one of three positions mentioned with a veteran presence, it would be a huge win.