Browns fans can teach Indians fans about keeping teams in Cleveland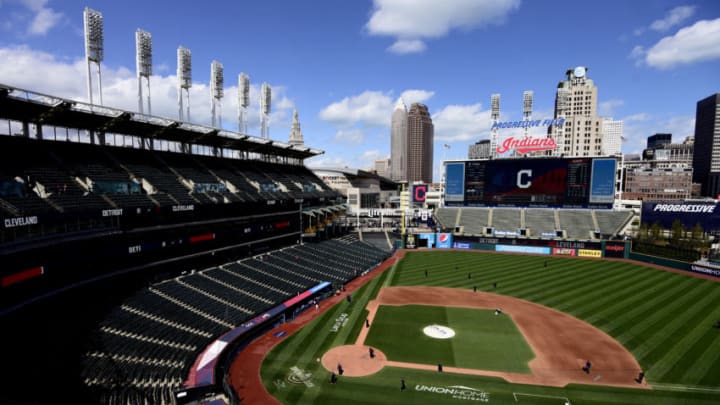 CLEVELAND, OHIO - APRIL 11: A general view of Progressive Field prior to a game between the Cleveland Indians and Detroit Tigers on April 11, 2021 in Cleveland, Ohio. (Photo by Emilee Chinn/Getty Images) /
Dee Haslam, a member of the ownership group for Columbus Crew SC, turns to the crowd after receiving a club scarf from fellow owner-operator Pete Edwards, second from left, during an introductory press conference on Wednesday, January 9, 2019 at Two Miranova in Columbus, Ohio. New owner-operators Dee Haslam and Pete Edwards were formally introduced along with new Crew SC general manager Tim Bezbatchenko and new Crew SC manager Caleb Porter. [Joshua A. Bickel/Dispatch] /
Columbus Crew tried to test the legality of franchise moves
The Columbus Crew story is a lot like the Cleveland Browns story from 1995. A greedy owner decided to make a quick buck by dealing with out-of-town interests, in this case from Texas, and selling out the townspeople.
But not so fast, pardner!  Section 9.67 of the Ohio Revised Code, the Modell Law, stood in their way though it is not necessarily cut and dried that the move was prohibited. They didn't say you could not move the team, but you are going to get sued first. Ohio law says that local groups get a chance to match the deal.
Jakub Frankowicz has a brilliant account in the Guardian, "How a group of fans in a bar saved Columbus Crew from extinction." Do not underestimate the role of the fans in keeping the sports teams in the city where they belong! They got organized, got on the internet, went to City Council meetings,  and they found some powerful friends, namely Dr. Pete Edwards, the team physician and his family, and Dee and Jimmy Haslam, who happen to own your Cleveland Browns.
Working together they got a deal to buy the team, they got the State Legislature behind them and they got a deal for a new stadium to be built.
And that, my dear friends, is how you save a franchise.
The Columbus Crew stayed in Columbus, and are now the reigning World Champions after winning the 2020 MLS Cup. How do you like them apples?
Hopefully, it will not take an offer from Nashville to wake up the city that Progressive Field needs to be taken care of. Nashville is scary because if you go to their website they have a seemingly endless group of Country and Western superstars associated with the buyer's group with hundreds of millions of dollars they can invest, and they like baseball. They could easily come up with a billion dollars for the ball club and another billion for a stadium.