Browns fans can teach Indians fans about keeping teams in Cleveland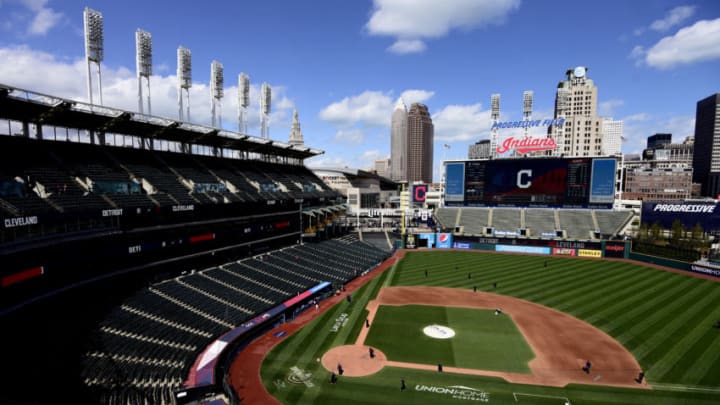 CLEVELAND, OHIO - APRIL 11: A general view of Progressive Field prior to a game between the Cleveland Indians and Detroit Tigers on April 11, 2021 in Cleveland, Ohio. (Photo by Emilee Chinn/Getty Images) /
CLEVELAND – 1890. The Cleveland Spiders Base Ball Club poses for a team portrait in 1890. Cy Young is in the photo, middle row, third from left. (Photo by Mark Rucker/Transcendental Graphics, Getty Images) /
It costs money to be Major League.
The real justification for Cleveland having  Major League Baseball is going to have to rest on its being one the most attractive place in the world to locate a Major League Team. Trying to keep the team by regulations or threatening a billionaire is great, but that if that's all we got, it's probably not enough.
Several years ago when the Bengals were asking for a new football stadium to be built, team owner Mike Brown was asked to justify why the team needed a new stadium. Wasn't old Riverfront Stadium good enough?
Brown smiled politely and replied simply (and I'm paraphrasing here, so my apologies if I am not getting it quite right), "This is just the reality of being a major league sports city. This is the standard that is being set around the country."
Translation: it really is not about Mike Brown, or the Haslams or the Dolans, it's just the way that Major League Sports are run in American cities these days. The only question is whether your town wants to continue to participate.
That was a good explanation from an owner that has not always been the most popular among fans.  Major league cities have major league teams, and they have to establish and adhere to certain standards for stadiums or someone else will.
Cleveland does not have to do be major league if they decide they are not up to the task. If they refuse, the world will not stop rotating on its axis.
Another city will emerge that will step up and  Major League Baseball will continue, and probably with even more money and a new stadium to go along with it. Well-organized groups have been established in Charlotte, Nashville, Las Vegas, Sacramento, Albuquerque, and even Havana, Cuba, and Tokyo, Japan. There are plenty of viable candidates if Cleveland chooses to drop out. The threat is real, and Cleveland will have to face them head-on.
Each person is entitled to their own opinion.  However, as for this fan, losing Major League Baseball would be a disaster. I would like for Cleveland, Cuyahoga County, and Ohio, to continue to be Major League and to support Major League Baseball and NFL Football, thank you very much.
Minor League Baseball is great, but Major League Baseball has been around since the 1800s, and it should continue.
Lease negotiation time is usually the time is the time when both sides have to suck it up and make long-term commitments. For example, in Seattle, the Mariners signed a 25-year lease extension with the Washington State Major League Baseball Stadium Public Facilities District (PFD) that created future ballpark maintenance and upgrades. They initially asked for $180 million in hotel/motel tax revenue to be used over time to upgrade the ballpark, though ultimately the two sides agreed on $135 million.
That's a lot of money, and the ball club will expect something similar in order to induce them to sign a long-term lease.
Gateway Economic Development Corp., the nonprofit chartered to take care of stadiums and parking, funded via the so-called sin taxes from alcohol and tobacco in Cuyahoga County. There may be a revenue shortfall due to Covid, which has cut into the $14 million per year normally received from the sin tax.
Raising new money in a pandemic is a tough order, but somehow they are going to have to find a way to take care of the baseball team to keep them in town. To make this work, there needs to be genuine excitement from developers to put up the attractions — not to mention the streets, roads and all-important parking and public transportation — that are going to get the people downtown and all the way to the stadium.
It's not going to be just the Dolans that win or there will not be adequate political support. There needs to be a number of profit-making enterprises that are going to leverage this investment.
If you are an oldster like me, you can remember when the Indians played in Cleveland Municipal Stadium. We loved that old place, but downtown was really depressing prior to Jacobs Field arriving.
Nobody shopped downtown, it seemed, or went downtown for entertainment. It was run down. But when Jacobs Field, later to become Progressive Field, was built, it catalyzed the revival of the downtown area. Now, it is one of the most fun places downtown to visit.
Revitalization is not science fiction, it's real. But it requires smart civic planners, competent developers, and sharp businesspeople to come together and make it happen.
Some of the fans who read Dawg Pound Daily include developers, lawmakers, and business owners. How can you benefit if they put forward a package to extend the stadium lease? What will it mean for your business? Do the legislators know how it affects you and your business? They are going to have to find a way to generate the funding to upgrade the stadium.
Five or 10 years from now, visitors should be able to come to Cleveland and see a completely different city built up around the Stadium area. There should be plenty of new attractions in the stadium district that are easy to access with plenty of parking and great public transportation.
It should be worthwhile visiting the stadium area even when the ball club is not playing. If that is the case, then the project will have been a great success and everyone will be happy with the investment.
Inside the ballpark, it should continue to be the greatest ballpark in the American League.
At the risk of sounding like Larry the Cable Guy, you need to "Git R Done!" Come on, Cleveland!  Make it work!