Have the Cleveland Browns closed the gap with the Baltimore Ravens?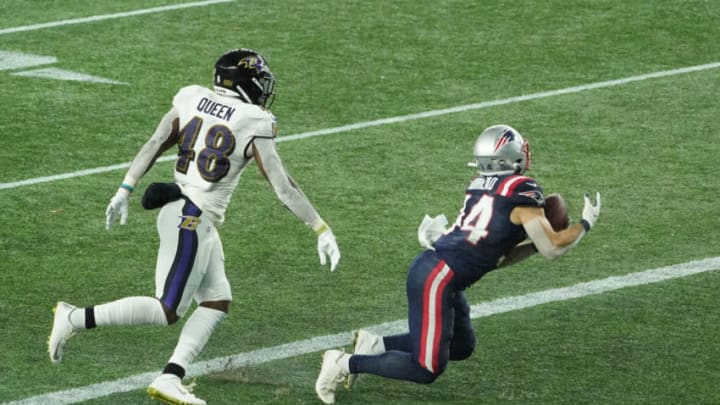 Nov 15, 2020; Foxborough, Massachusetts, USA; New England Patriots running back Rex Burkhead (34) makes the catch for a touchdown against Baltimore Ravens inside linebacker Patrick Queen (48) during the second quarter at Gillette Stadium. Mandatory Credit: David Butler II-USA TODAY Sports /
Dec 14, 2020; Cleveland, Ohio, USA; Cleveland Browns quarterback Baker Mayfield (6) throws a pass over Baltimore Ravens outside linebacker Matt Judon (99) during the first quarter at FirstEnergy Stadium. Mandatory Credit: Ken Blaze-USA TODAY Sports /
The Ravens are losing Matt Judon, Yannick Ngakoue, and Orlando Brown.
The Ravens last had a losing season in 2015. They were dominant in the regular season in 2019, scoring 531 points, and yielding only 282, for a Pythagorean win percentage of 81.8%.
Here is a summary of some of the key free-agent additions and subtractions, with some comments:
Ravens Add:
Kevin Zeitler, OG, 31, Ex-Brown, Very good tough pro, borderline for Pro Bowl, down year in 2020
Alejandro Villanueva LT, 33, 2X Pro Bowl.
Sammy Watkins, WR, 28, All-NFL in trash talk, still catches the ball when healthy, had 1047 yards in 2015, 421 yards last season.
Ravens Lose:
Matt Judon, DE/OLB, 29, Massive respect for 2020 Pro Bowler
Yannick Ngakoue, DE, 26, 2017 Pro Bowler played half-season for Ravens in 2020                              Jihad Ward, DE/OLB, 27 Ranked by PFF about the same as Browns' Porter Gustin
Orlando Brown, OT, 25, 2020 Pro Bowler, son of ex-Brown Orlando Sr                                               Matt Skura, C, 28, Much more impressive in 2019 than in 2020.                                                           Willie Snead, WR, 29, Long time Browns killer, 432 yards last season.                                            Mark Ingram, RB, 31, 3x Pro Bowler has been replaced by J. K. Dobbins.
The Ravens added some veterans who did not have great years in 2020. Kevin Zeitler is an ex-Brown, and we might run into him at a Browns Backers function in the future, so we are not calling him over the hill. He has had an awesome career.
Let's just say Pro Football Focus does not love him quite as much as they used to. They still like Alejandro Villanueva, though this writer will tell you that Big Ben Roethlisberger helped his O-Line get good grades by using the spread formation and dump pass very effectively so Steeler linemen did not have to sustain their blocks longer than 2.0 seconds and change.
Lamar Jackson, however, likes to extend plays for an entire fortnight. Thus Villaneuva, at this point in his career, might not actually be as good as Orlando Brown despite receiving similar grades.
The biggest loss was Matt Judon who is a menace on the playing field. So is Yannick Ngakoue, though he did not play the full season with Baltimore. They also lost Jihad Ward from the pass rush, and that is going to cool things off.
So, for you amateur handicappers out there, how would you handicap this team if it was a game and you had Judon, Ngakoue, Brown, Skura, Snead, and Ingram out with injuries, but you had Zeitler, Villanueva, and Watkins coming off the Covid list?
Brown is better than Villanueva but Zeitler is better than Skura, so that partially mitigates the loss of Brown. On defense, however, Judon and Ngakoue are two stars that might move the spread by as much as 1.5 points. Watkins about washes with Snead and Ingram.
Over the course of the 2021 season, it is very easy to imagine that the Ravens might give up about 30 points more than they did in 2020 based on the veteran movement. So from their lofty Pythagorean win percentage of 81.8% in the 2019 regular season, they were still one of the top teams in the NFL in 2020 at 60.7%. We are going to ding them a few points for free-agent losses, while the Browns, we believe, have gotten better. Let's take a look at the Ravens draft next.