Daily Dawg Tags: Cleveland Browns rookie gets advice from Randy Moss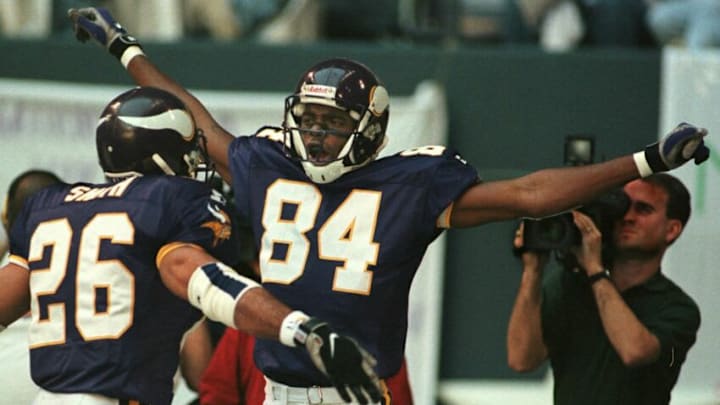 IRVING, : Minnesota Vikings receiver Randy Moss (C) celebrates his 51 yard touchdown reception on the fourth play of the game versus the Dallas Cowboys at Texas Stadium in Irving, TX, 26 November. At left is teammate Robert Smith. AFP PHOTO/PAUL BUCK (Photo credit should read PAUL BUCK/AFP via Getty Images) /
The Daily Dawg Tags bring you all the Cleveland Browns news you need to know, including rookie Anthony Schwartz receiving advice from legend Randy Moss
Whenever a rookie is entering the NFL, it's never a bad idea to find a player to lean on for advice. For Cleveland Browns rookie wide receiver, Anthony Schwartz, that player ended up being a bit of a surprise name.
Schwartz was able to spend time with Hall of Fame wide receiver Randy Moss, who gave him some valuable advice for succeeding in the NFL.
Moss, who is one of the greatest deep threats the league has ever seen, saw some of that same explosion in the young Cleveland rookie and was more than happy to try and help him as he prepares for his own journey. Now, no one is saying Schwartz can be like Moss, but it wouldn't hurt to learn how to prepare like him.
That story and more can be found in today's Daily Dawg Tags.
Cleveland Browns News
Browns rookie WR Anthony Schwartz shares advice Randy Moss gave him — Jared Mueller, Browns Wire
""The Cleveland Browns drafted receiver Anthony Schwartz to provide their offense with big-play ability and speed. Hall of Famer Randy Moss epitomized both big-play ability and speed during his amazing 14-year career in the NFL.""
Moss told Schwartz "your best ability is availability" and added to "make sure to take care of your body." That's solid advice which seems like anyone should know, but we have all seen countless athletes try and rely solely on their athleticism and then succumb to injuries. Having a legend such as Moss remind the rookie of that is a great thing to have.
Greg Newsome II displayed all the traits the Browns saw long before they made him a first-round pick — Dan Labbe, Cleveland.com
""Greg (Newsome II), he was one of the guys who we targeted throughout the draft process," Browns EVP of Football Operations and General Manager Andrew Berry said shortly after making Newsome their first-round pick."
Anyone paying attention could see the Browns were zeroing in on Newsome. He fits their defense perfectly and should develop into a long-term starter opposite Denzel Ward.
Browns roster: 3 backups who will see most time in 2021
Cleveland has a pretty deep roster this season which includes several backups who should still see plenty of time while becoming role players in 2021. In this piece, Sam Penix highlights the top 3 reserves who will see plenty of time on the field.
Denzel Ward named to NFL.com's All-Under-25 Team
There's not much on the field that Denzel Ward cannot do. And the Browns young cornerback is being recognized for this as he was named to NFL.com's All-Under-25 Team.