Cleveland Browns get words of encouragement from Tony Dungy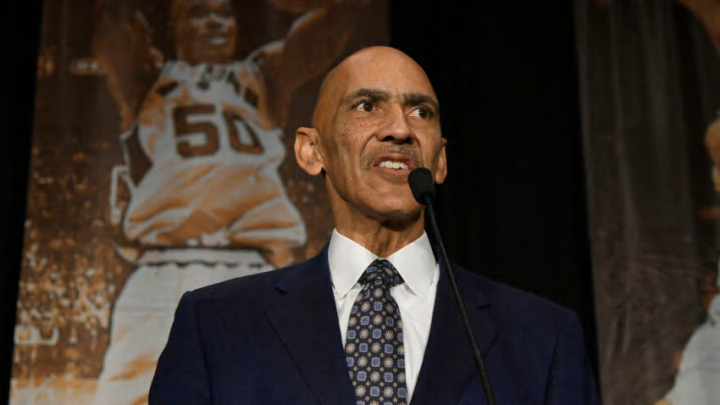 CHARLOTTE, NC - FEBRUARY 16: Tony Dungy speaks at the All Star Breakfast held by the National Basketball Retired Players Association at the Renaissance Charlotte Suites Hotel on February 16, 2019 in Charlotte, North Carolina. (Photo by John McCoy/Getty Images) /
Tony Dungy, the Super Bowl-winning head coach turned analyst spent some time at Cleveland Browns practice and had some positive words for the team
After a practice in front of roughly 27,000 fans at FirstEnergy Stadium on Sunday, the Cleveland Browns got to hear from a special guest who has a lot of clout in the NFL.
Hall of Fame head coach Tony Dungy who won a Super Bowl with the Indianapolis Colts (and also built the team in Tampa Bay that allowed Jon Gruden to hoist the Lombardi Trophy) addressed the Browns players and offered some words of encouragement as they look to make the postseason for the second year in a row.
Dungy, who has a relationship with Kevin Stefanski preached to the team that talent is not enough to win. He reminded them that every single team they face in this league has just as much — or even more talent — than they do, but it's about doing the job the right way and being there for your teammates.
Stefanski, who met Dungy while he was with the Minnesota Vikings through Leslie Frazier, said Dungy us a "Hall of Fame person" and believed the team could benefit from hearing him speak.
""He has been very supportive of me, and we have stayed in touch," Stefanski said about Dungy via Dan Labbe of Cleveland.com. "I made sure if he was in town for the (Pro Football Hall of Fame) festivities (in Canton), I wanted him to come over and visit the team. I got to spend some time with him before practice and then he shared some words with the team. It was outstanding.""
The Cleveland head coach said he and Dungy also had a conversation about the upcoming season but didn't say much about what was said in that discussion.
Dungy finished his coaching career with a record of 139-69 and went 9-10 in the postseason. His success would make him a great mentor and sounding board for Stefanski who won the NFL Head Coach of the Year award last season, which happened to be his first as a coach in the NFL.
Now, he and the Browns head into the 2021 season looking to build upon that success.