Over/Under 10.5 wins for Browns? Spinzone takes over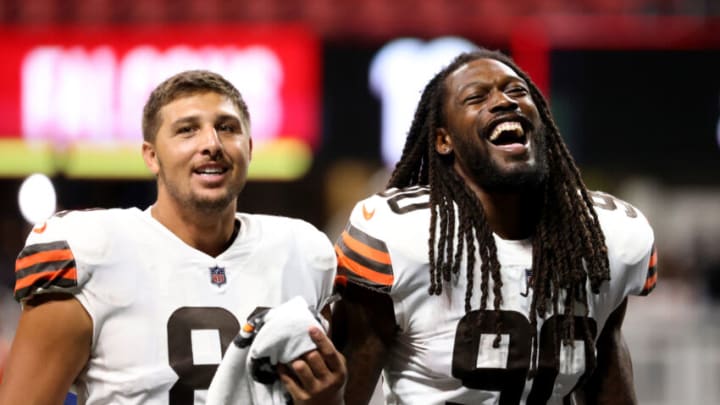 Aug 29, 2021; Atlanta, Georgia, USA; Cleveland Browns tight end Austin Hooper (81) and defensive end Jadeveon Clowney (90) reacts after their win against the Atlanta Falcons at Mercedes-Benz Stadium. Mandatory Credit: Jason Getz-USA TODAY Sports /
NFL Spinzone has made their final predictions, take the over on 10.5 wins for Browns
When it comes to predictions, predicting ones overall record seems to be one of the hardest predictions to make in the book. While they are always a good time, they are tricky. When taking a look at the Cleveland Browns schedule this season, I've given it multiple looks.
After looking at it for the second and third time, I've seemed to come out of it with a new feeling every time. While NFL SpinZone has take the over on 10.5 wins for the Browns this season, what is my final feeling?
Give me the over. This Browns team is built different. They are ready to roll. I know, "built different" seems a bit cliche and old, but believe me, they are in fact different.
First things first, they are healthy. Then, you move to all the moving pieces to the puzzle. They improved and got faster at the linebacker position. They improved and got faster and the cornerback position.
Same goes for the secondary in the safeties. Second year head coach Kevin Stefanksi is returning with just about all of his coaches from last year, a great thing the Browns aren't used to in recent history either.
Now, for thoughts on the actual schedule. This may sound crazy, but every single game on the Browns schedule is winnable. I even have them winning Week 1 in Kansas City. I mean, three rookies on the offensive line that are supposed to hold Myles Garrett and Jedeveon Clowney?
Not happening. Everyone's healthy. The defense has improved a ton.
The other sneaky tough games on their schedule include the Packers, Chargers, and Cardinals. Yes, their division opponents are never easy either. But, the Browns are ready to win, and they're ready to do it now.
If the majority of the key pieces can find a way to stay healthy all season long, then why not us?