Cleveland Browns have carbon copy QB of previous Super Bowl contender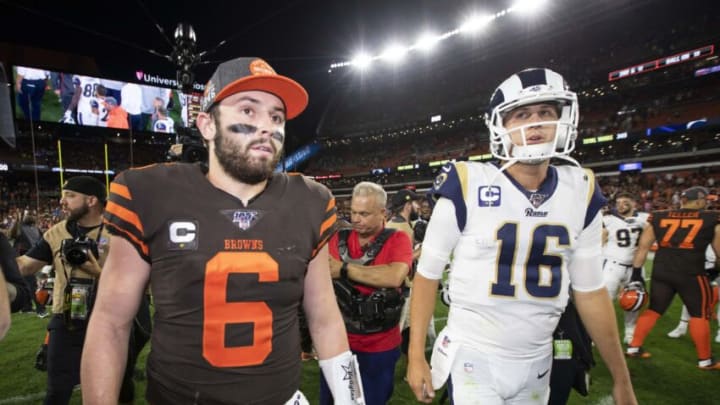 Sep 22, 2019; Cleveland, OH, USA; Cleveland Browns quarterback Baker Mayfield (6) and Los Angeles Rams quarterback Jared Goff (16) talk after the game at FirstEnergy Stadium. The Rams won 20-13. Mandatory Credit: Scott R. Galvin-USA TODAY Sports /
Cleveland Browns quarterback Baker Mayfield takes a lot of grief, but he has nearly identical stats as another quarterback in the league who was able to take his team to the Super Bowl.
The huge question that won't go away for the Cleveland Browns is; can Baker Mayfield be the long-term quarterback for the franchise? As full disclosure, I'm in the camp of being fully behind Mayfield.
Would I make the argument he is a top-10 quarterback in the league? No, but I've seen horrible QB play as a Browns fan the last 20 years, so Mayfield is a bit of a welcome sight.
However, with this team finally getting some talent on the roster, finding a coach that is more than capable, and a front office that finally has the trust of ownership. There are a lot of tough decisions to be made in the next 12 months at the quarterback position.
It feels like most of the attention on this has been negative recently, but fans should pay close attention this weekend. Why do you ask? Because Jared Goff is the exact same quarterback as Mayfield.
In the right system he can flourish, even take your team to a Super Bowl.
But he must have talent around him to be successful, and he can't be forced to throw the ball consistently to win games.
Goff was the No. 1 pick in 2016 and struggled with Jeff Fisher as his head coach, he actually started his career 0-7 and many thought he was about to bounce out of the league. Then a guy named Sean McVay took over in 2017 and completely resurrected the team.
Goff would then go on to play the next four seasons as the starting quarterback going 42-20. Now he did eclipse 4,500 passing yards in 2018 and 2019, which Mayfield has never touched, but he was just making simple passes in the play-action game.
Remember, Goff took the Rams to the Super Bowl in 2018, but the offense couldn't do anything, and the team lost 13-3.
Keep in mind, the Browns have talent, but the Rams had the next level of talent on offense and defense over his four-year stint with the team.
Is Kevin Stefanski comparable to McVay? Honestly, it's a very similar system. Is Mayfield good enough to get you to the Super Bowl? If Goff did, Baker Mayfield certainly can, but, everything else must be perfect. You need a strong running game, a great offensive line, and a top-three defense to get it done.
The big question?  Can you acquire all of that in the time he's still under a rookie contract? The Rams tried it and eventually ended up giving up their next three drafts to get Matthew Stafford.
It will be interesting to see what Andrew Berry decides.