Crybaby Raiders want to beat Cleveland Browns via forfeit, not on the field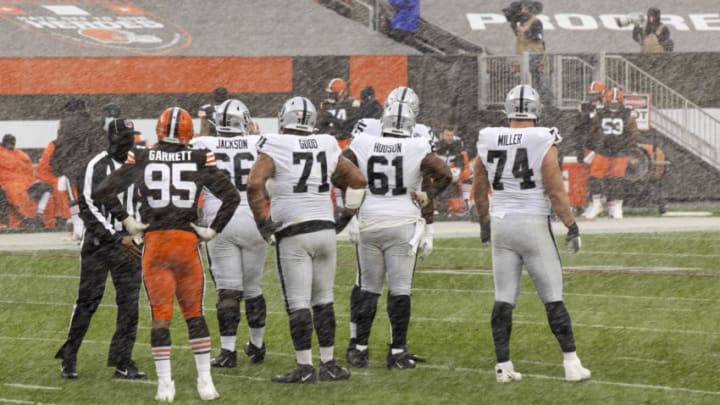 Nov 1, 2020; Cleveland, Ohio, USA; Cleveland Browns defensive end Myles Garrett (95) stands watching the Las Vegas Raiders offense between downs as snow flies during the second quarter at FirstEnergy Stadium. Mandatory Credit: Scott Galvin-USA TODAY Sports /
The Las Vegas Raiders are crying about having to play the Browns, who are short 20 players–unbelievable!
While the Cleveland Browns are down 19 players due to Covid, resulting in postponing their game with the Las Vegas Raiders till Monday, some of their players, notably linebacker K.J. Wright, are crying that the postponement is unfair.
Good grief. They teach you in junior high school to only worry about the things that you can control, and not worry about decisions that are made by the officials or the League.
You might go through an entire box of tissues reading their forlorn, angry tweets.
Mr. Wright, you were not lied to. If you heard get tough talk on postponements from the NFL, that's not the same as a signed Collective Bargaining Agreement. If you had read the statement from NFLPA President J.C. Tretter back in July, his memo made this clear.
"*Is it possible for games to be postponed this year?"Yes. The NFL made clear it does not intend to add another week to the schedule. That should not be a problem, as we were able to play every game last year within our normal season calendar. The threat of missed game checks is matched by the threat of lost revenue to NFL owners, so we all have a vested interest in playing another complete season." – J.C. Tretter, Clearing Up The Facts On Our COVID Protocols, July 28, 2021"
Mr. Wright, you should read Dawg Pound Daily. We published a commentary on the NFLPA memo for our readers on the same day the memo came out on the NFLPA website back on July 28, as well as some commentary on overaggressive verbiage from the NFL that had no legal authority.
If anybody lied, it was the NFL owners, not the NFLPA that represents you, and it's your own fault for believing the owners' baseless assertion that there would be no postponements. The NFLPA never, ever said that. It is certainly not in the CBA or any amendment.
Wright isn't the only Raider to shed tears at the prospect of playing the game instead of getting a gift-wrapped forfeit. Owner Mark Davis argued that his team should not have to be given a short week to prepare for division rival Denver due to Covid. Of course, he's the owner and his job is to look after the interests of his team and his players.
Cornerback Casey Hayward accused Tretter on Twitter of using his position to bend the rules. Likewise, Hayward links to the NFL memo which promises no postponements.
But dude, that's not in the CBA. The NFL can't just violate the CBA by writing a memo. Otherwise, the owners can just write a memo and say, "You now work for free, we don't care what the CBA says." That's not what the NFLPA agreed to.
You Raiders are truly a work of art. You believe whatever the NFL tells you, and you blame J.C. Tretter for it, isn't that so? You believe your CBA has no power, and just do whatever the NFL and the owners tell you to do.
Whining about playing a team that has 19 players missing due to Covid is beyond ridiculous.
As of Saturday night, the Covid-19 list looks like this:
HC Kevin Stefanski
Acting RB Coach Ryan Cordell
Offensive AC T.C. McCartney
QB Baker Mayfield
WR Jarvis Landry
CB Troy Hill
DT Malik McDowell
DE Ifeadi Odenigbo
S John Johnson
TE Austin Hooper
OT Jedrick Wills
G Wyatt Teller
DE Takk McKinley
WR Jojo Natson
S Grant Delpit
LB Tony Fields II
CB A.J. Green
S Ronnie Harrison Jr.
QB Case Keenum
LB Jacob Phillips
LB Mack Wilson
DE Jadeveon Clowney
We aren't going to count Drew Forbes who is on IR, or Ross Travis, who has never played a down for the Browns. Plus Kareem Hunt is out with a sprained ankle.