Browns wave unfond farewell to Ben Roethlisberger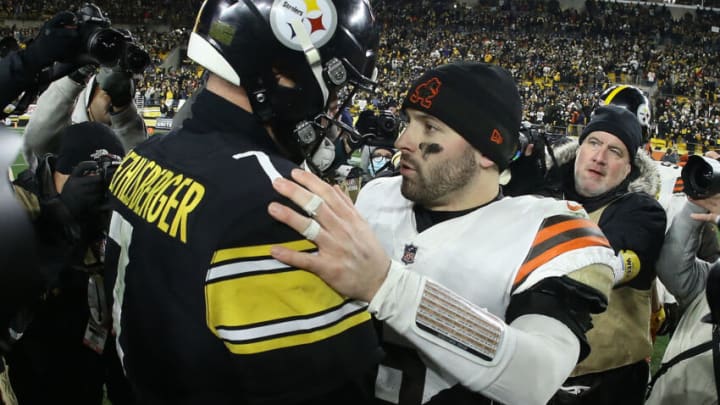 Jan 3, 2022; Pittsburgh, Pennsylvania, USA; Pittsburgh Steelers quarterback Ben Roethlisberger (left) and Cleveland Browns quarterback Baker Mayfield (right) embrace at mid-field after playing at Heinz Field. The Steelers won 26-14. Mandatory Credit: Charles LeClaire-USA TODAY Sports /
Good riddance to the number one tormenter of the Cleveland Browns, a man we love to hate.
Never say never, but it appears that Ben Roethlisberger may never again face the Cleveland Browns in uniform ever again. The past 18 years have been like long agonizing root canal operation for Browns fans. Please, let it be over already.
All kidding aside, though, the problems with Roethlisberger started in the 2004 draft, as Cleveland made one of the biggest draft day boondoggles of all time. With a chance to draft Roethlisberger, they were fearful that Pittsburgh was going to trade up, so they gave up a second-round pick to move up one spot and draft…Kellen Winslow, Jr?
You can't make this up. There's no way in God's green earth that the Steelers would draft a temperamental tight end that high. At the time, your humble correspondent was working at West Virginia University. Our students were mostly Big East football fanatics who comprised an informal scouting bureau who apparently knew way more than Butch Davis, who was calling the shots for the Browns.
We all knew that Winslow (from WVU's rival, the University of Miami Hurricanes) was a head case. One student, a kid named Joe S. who would later be wind up working for the Department of Energy, called him "the tight end equivalent of Ryan Leaf." This was before the draft. If they had to have Winslow, they should have traded down, not up. Good grief.
Plus, as a Miami (Ohio) University alum, I was totally hep on this kid Ben Roethlisberger who the scouts were leery about just because he was from the Mid-America Conference. Hey, it was realized that there was a major investment in Jeff Garcia, but the rule is that if there is a premier quarterback prospect available, you have to draft him, regardless of whether you need him or not.
But no, Butch Davis had to draft any Hurricane he could. Instead of coming to Cleveland, Roethlisberger's fate was to go to arch-rival Pittsburgh. That was tough to take.
Readers of this space are aware that your humble correspondent has compared Number Seven to a water buffalo, and a hippopotamus, and has claimed that his passes wobble and make quacking noises. Of course, all these things are completely true, so he cannot sue me.
However, it was also predicted in this space that the old water buffalo was going to make it through the entire season and that he would have the Steelers in contention for the AFC North title or a Wild Card. Well, when the smoke cleared from the drubbing of the Browns, 26-14, Ben did just enough to win. He completed 24 dink-n-dunk passes out of 48 attempts and let Najee Harris win the game for him.
Hey, wasn't that supposed to be the Browns' game plan? The Steelers came into the game with the worst ranked run defense in the NFL. The Browns responded with 18 rush attempts (not including two rushes by Baker Mayfield). Mayfield dropped back 49 times, including 36 pass attempts, nine sacks, and two scrambles. 49 dropbacks versus18 rush attempts sounds just slightly off, doesn't it?
Also, note that Nick Chubb was targeted only one time through the air. Previously your humble correspondent has called attention to that Mayfield is adverse to using Chubb as the safety valve in the flat. He's much more amenable to using D'Ernest Johnson or Kareem Hunt (51 combined targets to 24 for Chubb).
Perhaps it's because the coaches are dissatisfied with his 79.2 catch percentage, or perhaps Mayfield is intent on asserting that he, not Chubb, is the alpha gorilla of this clan. Perhaps that's a ridiculous thought, but it's equally ridiculous to think someone would take nine sacks and throw only one pass to a Pro Bowl tailback in the flat.
Darned if the Steelers aren't still in the hunt for a playoff berth, and the Browns are talking the usual nonsense about big free agents and new quarterbacks.
Yeah, if the old water buffalo is having the worst year of his career and still contending for the playoffs in January, he probably merits consideration of the Hall of Fame. He's a six-time Pro Bowler, playing in the same Conference as Tom Brady most of their careers. He has two Super Bowl rings, fifth all-time in passing yards, led his team to the playoffs10 times. He deserves it.
If Monday Night Football was his last game against Cleveland, and let's hope that it was, he finishes with an overall 26-2-1 record versus the Browns. His 13 wins at Cleveland's FirstEnergy Stadium as starting quarterback are second all-time behind Baker Mayfield with 19. Tim Couch is third with eight. That was kind of ridiculous that for a long time the Steelers starting quarterback was the Browns stadium all-time wins leader until Mayfield came along.
The biggest takeaway from his last game against the Browns was that he was willing to do what was necessary to win the game. He knew he did not have his 100-mph fastball, so rather than insist on taking seven-step dropbacks and throwing interceptions and getting sacks, he trusted Najee Harris to win the game for the team. Harris came through big with 188 yards rushing and 6.7 yards per carry. No wide receiver had more than 35 yards.
Meanwhile, the Steelers kept sending five pass rushers, looking for Chubb up the middle or looking for Baker trying to heave the ball downfield. The reeling Browns kept looking for the deep ball and ignoring Chubb open in the flat. The Steelers kept batting down Mayfield's passes or, worse, batting down Mayfield himself.
DPD Fans are invited to offer a logical explanation why Nick Chubb has only been targeted 24 times this season (19 receptions), while Najee Harris has been targeted 90 times with 70 catches.
In any case, if Roethlisberger is really retiring after this season, that's the best possible news Browns fans could hope for. Now, what to do about Lamar Jackson and Joe Burrow?