Cleveland Browns: Most important lessons learned from Super Bowl teams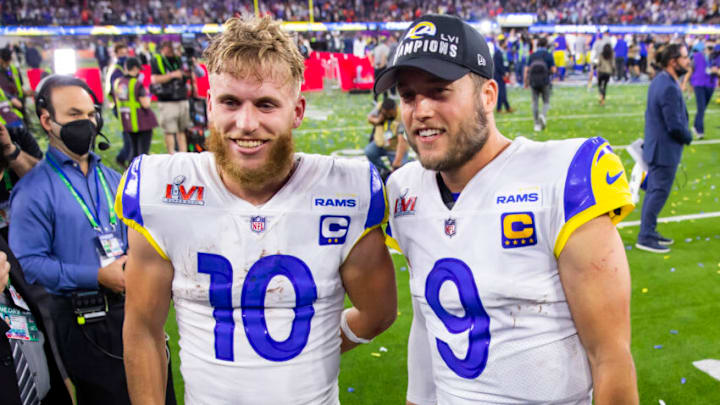 Feb 13, 2022; Inglewood, CA, USA; Los Angeles Rams quarterback Matthew Stafford (9) celebrates with wide receiver Cooper Kupp (10) after defeating the Cincinnati Bengals in Super Bowl LVI at SoFi Stadium. Mandatory Credit: Mark J. Rebilas-USA TODAY Sports /
The Cleveland Browns weren't in the playoffs but they can still learn from what transpired in the postseason — especially in the Super Bowl
After failing to make the playoffs, the Cleveland Browns front office went back to the drawing board to try and put a plan together for improvement in 2022. While doing so, they surely also took plenty of notes while watching the playoffs — and most importantly, the Super Bowl.
If they did, there were several lessons that they could have learned and Mary Kay Cabot of Cleveland.com took the time to point out five of the most important things they could have picked up.
No. 1 for her was the fact that elite quarterback play is essential. She does say that Baker Mayfield could still creep into the elite category if he improves but the truth is players such as Joe Burrow and Matthew Stafford are on a completely different level right now.
Even the quarterbacks who were close to making it in the AFC are on another planet with players such as Josh Allen and Patrick Mahomes putting on a clinic in the postseason.
From there, she dives into the wide receiver corps saying a "Crazy-good receiver or a combo is vital." For the Bengals, Ja'Marr Chase and Tee Higgins were phenomenal whereas the Rams had the best in the game this season in Cooper Kupp, and even Odell Beckham, Jr. went off in the postseason for them.
""Kupp had an NFL-high 16 TD receptions during the season, and seven more in the playoffs. Beckham caught seven TDs in his 12 games with the Rams. Mayfield, on the other hand, had no receiver with more than three TD catches, hard as that is to fathom. Only one — Donovan Peoples-Jones — had that many, and Jarvis Landry had two." — Cabot, Cleveland.com"
Fans in northeast Ohio absolutely love Jarvis Landry but to act as if he gave this team what they needed as No. 1 wide receiver is a mistake — as is pretending he's giving the team what they're paying for with a roughly $16 million contract.
From there, she pointed out the Browns need a kicker who is money as well as an excellent offensive line. However, there is one before these two that could get people fired up as Cabot says they need a "more menacing edge-rusher."
While she says Myles Garrett was great, they needed more from him down the stretch. And yes it's true that there were injuries he was dealing with but the truly great players find. He's more than capable of being Aaron Donald but the question is whether we will see this against a Chicago Bears team that has a ton of flaws or against a contender.
In the end, the biggest needs that Cleveland has to address are at quarterback and wide receiver. Baker Mayfield has yet to prove he's the guy and he's entering an important contract year. At wide receiver, there needs to be a massive overhaul even if that means saying goodbye to some fan favorites.