Cleveland Browns: 3 bold predictions in matchup against Washington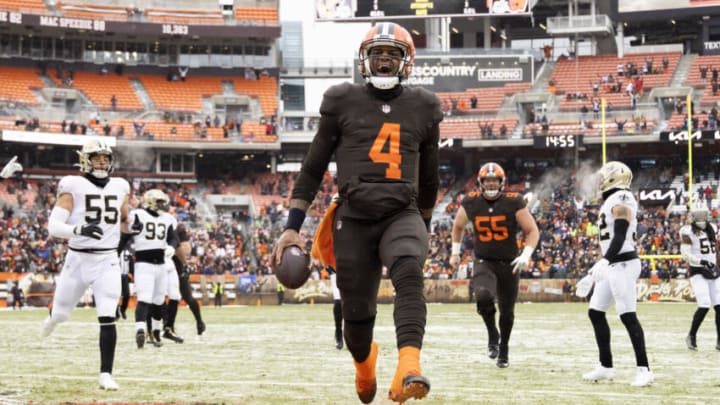 Dec 24, 2022; Cleveland, Ohio, USA; Cleveland Browns quarterback Deshaun Watson (4) runs for a touchdown against the New Orleans Saints during the second quarter at FirstEnergy Stadium. Mandatory Credit: Scott Galvin-USA TODAY Sports /
The Cleveland Browns and Washington Commanders battle it out Sunday in a game where the Browns can play spoilers against the Commanders
The Cleveland Browns take on the Washington Commanders this coming Sunday. The Browns will be playing out the last two games with little to gain as they've been eliminated from playoff contention. However, there are still those who will want to continue to play well as they are campaigning for a job or increased role next season — including rookies like running back Jerome Ford who will have an opportunity to showcase their talents.
With bold predictions, we want to take a stab at some things that might be a bit of a reach so let's take a look at a few now that would be very good if they were to happen as it would probably give the Browns a chance at the win.
Browns, Deshaun Watson. Mandatory Credit: Scott Galvin-USA TODAY Sports /
Cleveland Browns bold prediction No. 3: Deshaun Watson will throw for two touchdowns
Deshaun Watson's return to action over the last four games hasn't exactly been spectacular. Obviously, there are numerous reasons for that, from the fact that he hadn't played in an NFL game in over 700 days or that the weather was horrible last week at First Energy Stadium.
Even so, when you take a look at his statistics overall, they are some of the worst of his career. That won't shift overnight but for a player that the Browns organization has invested in heavily over the next five years, you'd like to see some overall better results and production to this point.
He now has a 2-2 record as the starter and only completed 71 of 123 passes, which is just 57.7 percent. He's also only thrown for 703 yards. Both these numbers are well below his normal rates — as are the two touchdowns in four games. Considering he'd thrown for 104 touchdowns over the previous four seasons, his numbers are well below where you'd like to see a potential star quarterback be.
So, I think in this game, where weather conditions will be better, and he has nothing to lose, Watson will have his best game to date with Cleveland. He'll double his touchdown total with at least two in this game.
He's only matched up against Washington once in his career and that was back in 2018 when his former team — the Houston Texans — faced them in a road game. The Texans won that game 23-21. It wasn't Watson's best effort as he only threw for 208 yards and had two interceptions and was sacked three times.
However, this current Washington team has been a mixed bag of things and hasn't had much consistency in their own season. They got off to a bad start with only a 1-4 record, but they got a few wins in the next group of games that included a big win against the high-flying Philadelphia Eagles who stand at 13-2 right now.
However, they slipped again over the last few games and lost the last two games with a tie before that. In their latest loss to the San Fransisco 49ers, they gave up 371 offensive yards and allowed rookie quarterback Brock Purdy to throw for 234 yards and two touchdowns.
With little on the line for Watson other than to improve, I suspect he'll play well in this one. It would be good too if the Browns let Watson lose a bit and have him go deep a few times.