While Browns fans are likely celebrating the fact that the Baltimore Ravens once again missed out on a chance to go to the Super Bowl,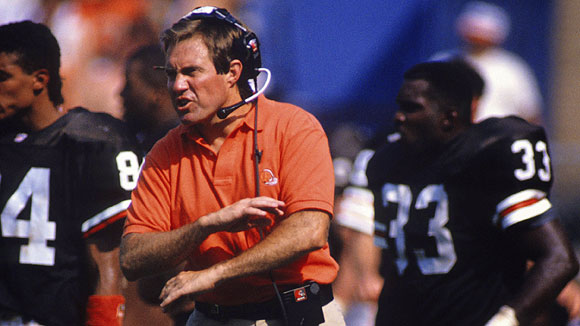 there is still a major Cleveland connection in this year's game that might ruffle some feathers.
It comes in the form of former Cleveland Browns head coach Bill Belichick, who will be going to yet another Super Bowl as head coach of the New England Patriots.
The argument over whether fans should still be bitter about the success of the Ravens still rages on, so it begs the question: is anyone out there still bitter over Bill Belichick?
He had a 37-45 overall record in Cleveland and is known for benching quarterback Bernie Kosar for "diminishing skills," opting to go with Vinny Testaverde instead. Belichick did take the team to the playoffs in 1994, but was 5-11 in his last season with the team (which was also the Browns' last season in Cleveland before moving to Baltimore).
Since resigning from the organization in 1996, Belichick has gone on to become – arguably – one of the greatest head coaches of all-time. His Patriots are about to appear in their fifth Super Bowl, and are looking to win their fourth, on February 5.
But, like the success of a team like the Ravens, do Browns fans feel burned by Belichick's yearly assault on the Super Bowl? Obviously, there were different circumstances surrounding the Browns of the mid-90s compared to the Patriots of the 2000s, but still, it must have that familiar tinge of "That's just the luck of the Cleveland Browns."
It simply comes down to the fact that Belichick needed his rocky experiences in Cleveland to take with him to a future head coaching position. It's unfortunate that the Browns were that stepping stone, but is that really something to blame Belichick over?
What do you say, Browns fans?