Ranking the Browns 28 Starting QB's Since 1999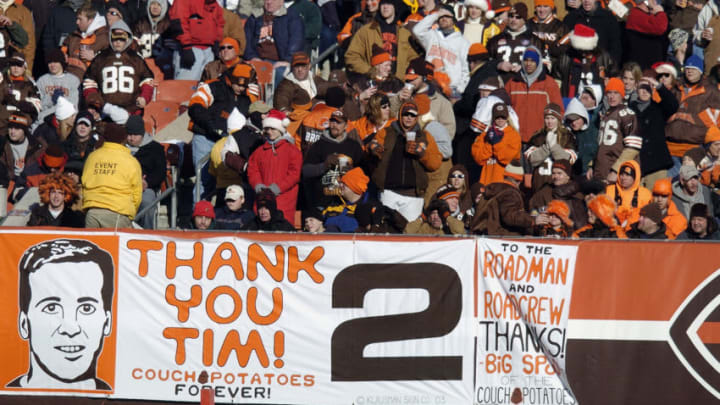 CLEVELAND - DECEMBER 21: Fans say farewell to quarterback Tim Couch #2 of the Cleveland Browns during the Browns last home game of the season at Cleveland Browns Stadium, which happened to be against the Baltimore Ravens, on December 21, 2003 in Cleveland, Ohio. The Ravens won 35-0. (Photo by David Maxwell/Getty Images) /
No. 28: Bruce Gradkowski
I'm sure everyone remembers the Bruce Gradkowski era of Cleveland football. Bruce was a sixth-round draft pick by the Tampa Bay Buccaneers and was never really meant to be the future of a franchise.
He played college ball at the University of Toledo and his rookie year with the Buccaneers showed some promise, but nothing ever developed. Coming to the Browns late in the 2008 season, after the Browns went 10-6, he was never meant to start.
More from Dawg Pound Daily
An injury to Derek Anderson brought him to the roster. Injuries to Brady Quinn and Ken Dorsey opened up the opportunity for him to start. He started the last game of the season and gave a lackluster performance.
Against the then 12-3 Steelers, Gradkowski had a terrible game in a 31-0 loss. Gradkowski ended that one throwing for 18 yards, two picks and only completed 5-of-16 passes. In comparison, Josh Cribbs threw for eight yards in that game, completing 1-of-2 passes. Dave Zastudil would punt six times for a whopping 288 yards, which was double the amount of yards the browns had that game.
This would be the only game Gradkowski would get to start as a Cleveland Brown. He was cut in the off-season. No one should have expected much out of Bruce Gradkowski as the Cleveland Browns starter, but his performance was unexpectedly bad.
No. 27: Spergon Wynn
Cleveland selected Spergon Wynn from Texas State University in the sixth-round of the 2000 NFL draft with the 183rd pick. The Browns already had former first overall pick Tim Couch on the roster, along with Doug Pederson, so he was not expected to be a franchise savior.
Being a late round draft pick, he was selected to hopefully develop into a good backup.
Wynn had only one start in his tenure with the Browns, a 48-0 loss to the Jacksonville Jaguars. This game the Browns offense was only able to get two first downs, compared to the Jaguars 28.
Wynn would only complete five of his 16 passes, for a total of 17 yards. However, unlike Gradkowski, he had at least had no interceptions in his lone start.
Wynn would not see action as a Browns quarterback ever again after this season. He would later be traded to the Minnesota Vikings. Wynn would be one of the first of many names on the seemingly endless list of Browns quarterbacks.
No. 26: Ken Dorsey
Ken Dorsey, like the previous quarterbacks on this list, was never meant to be a franchise quarterback. The 49ers drafted Ken Dorsey out of The University of Miami in the seventh round. He made his way to the Browns in a trade where Trent Dilfer went to the 49ers in exchange for Dorsey and a seventh round pick.
Dorsey would only start three games for the Browns, going 0-3 during this stint. He would lose to a 12-1 Titans, 8-5-1 Eagles, and the 3-11-1 Bengals. Dorsey was hurt in the Bengals game and replaced by Bruce Gradkowski, ending his career as a Cleveland Brown.
He would be released that offseason, never making another NFL roster again. His career as a Cleveland Brown would end with no touchdowns, seven interceptions, 370 yards, and a 46.7 completion percentage.
Dorsey is now the assistant director of athletics at FIU (Florida International University) after a stint as the quarterbacks coach for the Carolina Panthers. He helped coach Panthers quarterback Cam Newton on their Super Bowl run.