Way-too-early Cleveland Browns 2019 season predictions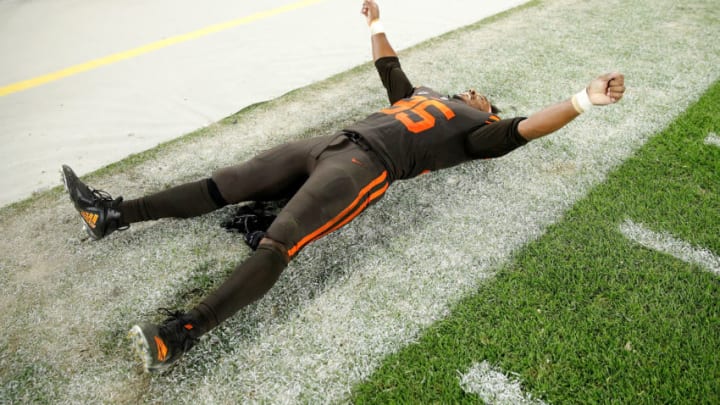 CLEVELAND, OH - SEPTEMBER 20: Myles Garrett #95 of the Cleveland Browns celebrates after a 21-17 win over the New York Jets at FirstEnergy Stadium on September 20, 2018 in Cleveland, Ohio. (Photo by Joe Robbins/Getty Images) /
CLEVELAND, OH – SEPTEMBER 20: Antonio Callaway #11, Rashard Higgins #81 and Damion Ratley #18 of the Cleveland Browns celebrate with fans after a 21-17 win over the New York Jets at FirstEnergy Stadium on September 20, 2018 in Cleveland, Ohio. (Photo by Joe Robbins/Getty Images) /
The season isn't played on paper. But the Cleveland Browns 2019 schedule is now on paper. So it's time to do one of my favorite, and meaningless, things … play the schedule game.
One of my favorite days on the sports calendar is the day of the NFL schedule release. However this year, I have a confession to make. Maybe it's the lack of a first-round draft pick or the lack of overall drama surrounding the Cleveland Browns, but I'm having a tough time reconciling the idea that the Browns are good. Last year we had earned two of the top four picks in the entire draft. This year, we are not even scheduled to pick until the second round.
On paper, the Browns are really, really good.
But in the words of our coach, Freddie Kitchens … Whoop-de Hell!
The Browns schedule includes four prime time games, the most the Browns have had since 2008. However, if a team with four prime time games was looking for some extra motivation, the Browns have to look no further than a few miles east. The Pittsburgh Steelers (minus Antonio Brown and Le'Veon Bell) got five prime time games. Five.
And maybe more surprising to me is that the Browns did not get a prime time slot in Week One. Instead, they got placed at the traditional "old Browns" 1:00 p.m. starting time. Is that a big deal? No, but it can be a perceived slight that a young, hungry team can use as motivation.
The Browns schedule is also lopsided in terms of division play. Five of their six division games are in the last half of the season, including three out of the last four. The Browns also play the Steelers twice in 11 days, which includes Cleveland's only appearance on Thursday Night Football in Week 13.
In the next few slides, I'll break the season down into four quarters to give a way-too-early prediction of the Browns 2019 record. I invite you to play along with me in the comments.