Does history favor the Cleveland Browns in 2020?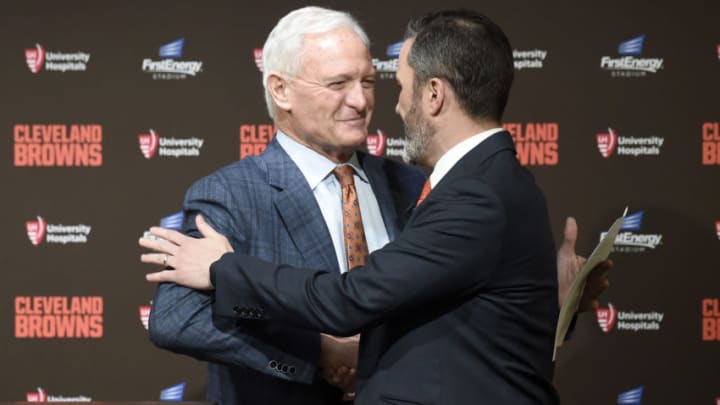 CLEVELAND, OHIO - JANUARY 14: Team owner Jimmy Haslam shakes hands with Kevin Stefanski after introducing Stefanski as the Cleveland Browns new head coach on January 14, 2020 in Cleveland, Ohio. (Photo by Jason Miller/Getty Images) /
CLEVELAND, OH – OCTOBER 08: Cleveland Browns fans in the Dawg Pound are seen during a game against the New York Jets at FirstEnergy Stadium on October 8, 2017 in Cleveland, Ohio. The Jets defeated the Browns 17-14. (Photo by Joe Robbins/Getty Images) *** Local Caption *** /
The Cleveland Browns 2020 schedule was released on May 7. Let's take a look at the Cleveland Browns historic record against their non-divisional opponents.
The way the NFL schedule works, every team plays each team in their division twice. Then they play an entire division from their own conference and every team from one division from the other conference. This year they will play every team from the AFC South and every team from the NFC East.
The final two games are against teams from the remaining two divisions in their conference that finished in the same place in the standings. This means the Cleveland Browns will play the New York Jets from the AFC East and the Las Vegas Raiders from the AFC West.
So we've known the teams the Browns were going to play for months, but now we know the specific dates. The season features two prime time games. In week two the Browns have their home opener against the Cincinnati Bengals with their first round draft choice and Heisman Trophy winner, Joe Burrow. The Browns also have another home game on Monday Night Football versus the Baltimore Ravens.
Last year, the Browns had a schedule that seemed very front loaded. Although at first glance, the schedule seems pretty balanced, the team does play four out of their last six games on the road. One of the unique parts of the schedule features the team playing in New York two weekends in a row. The Browns may have to fly to New York on Christmas Day depending on when the game gets flexed.
Every season is unique and this season is no different. The Cleveland Browns enter the 2020 season with a new head coach in Kevin Stefanski, a new general manager in Andrew Berry, and hopefully a reset on the 2019 team that never lived up to the promise of last season.
We don't know what this season has in store, but we thought it would be fun to take a look back at how the Browns have done historically against their non-divisional opponents.