Cleveland Browns camp: Baker Mayfield shows up lean, with cleaner footwork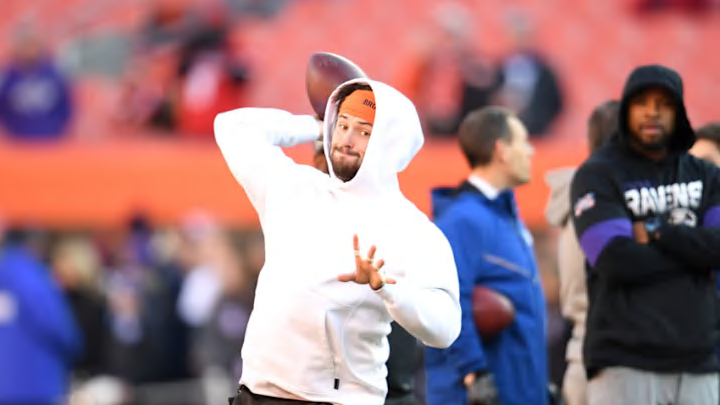 CLEVELAND, OHIO - DECEMBER 22: Baker Mayfield #6 of the Cleveland Browns warms up prior to the game against the Baltimore Ravens at FirstEnergy Stadium on December 22, 2019 in Cleveland, Ohio. (Photo by Jason Miller/Getty Images) /
Baker Mayfield looks lean and smooth for Cleveland Browns camp
Cleveland Browns fans are obsessed with Baker Mayfield's physique. For whatever reason, it's been an unhealthy obsession since he was taken first overall in 2018 — and it's caused some debate.
There have been those who thought he had put on weight between his rookie season and 2019, and they felt it was part of the reason he struggled in his second season. There were also those who said it was a good thing as it would help him absorb the hits he takes on a weekly basis.
This year, it's been all about him working harder and impressing fans with his fitness. And for those who want to see a more lean, chiseled Baker, they have to be happy about how No. 6 looks as he's gotten to work in Browns camp.
Mayfield has reportedly reported in the best shape of his career which has his body-critics ecstatic. But what really matters is how clean he has looked in his footwork.
New offensive coordinator Alex Van Pelt has said he wanted Mayfield to change the way he moved in the pocket this season and in the few reps that Mayfield has had in camp, he looks to have taken the coach's advice. And Van Pelt says a lot of the changes they were able to work on through Zoom meetings.
""As far as the footwork goes, that's the part that you can actually coach over the internet, which is cool,'' Van Pelt said via Mary Kay Cabot of Cleveland.com. "The quarterbacks sending the videos of their footwork to me, I can now go back, break it down and get on a one-on-one Zoom meeting with them and kind of coach them through the correction process of all the footwork we are going to use.""
Van Pelt pointed to Case Keenum, the new backup in Cleveland, as a player that Mayfield could model his movements after. Keenum clearly doesn't have the same arm talent of Mayfield but he's very disciplined and has worked under new Browns head coach Kevin Stefanski in the past.
For Mayfield, he's trying to shake off a poor performance from 2019 which came on the heels of a fantastic rookie season. His lean frame is proof of how serious he's taken the concerns about his fitness — and the footwork already being so improved is proof that he's taking the new coaching seriously as well.
The Browns will go as Mayfield does in 2020 and him showing up to work ready to go after an offseason full of so much uncertainty is highly encouraging.