Cleveland Browns: Jarvis Landry has message for Odell Beckham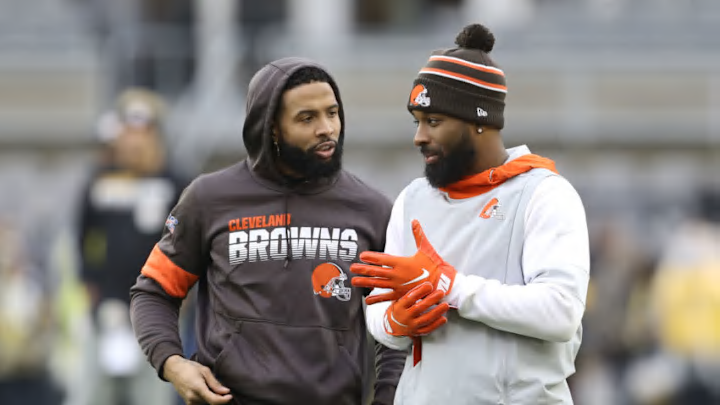 Dec 1, 2019; Pittsburgh, PA, USA; Cleveland Browns wide receivers Odell Beckham (left) and Jarvis Landry (right) talk on the field before playing the Pittsburgh Steelers at Heinz Field. Mandatory Credit: Charles LeClaire-USA TODAY Sports /
Jarvis Landry and the Cleveland Browns didn't make the postseason but many have made it no secret that they're pulling for Odell Beckham, Jr.
There was a narrative during Odell Beckham's tenure with the Cleveland Browns that he was a bad teammate. However, it's hard to see that being the case as many players, including Jarvis Landry, who are still in Cleveland have been incredibly vocal in their support of OBJ since joining the Los Angeles Rams.
Whenever Beckham would make a big play, social media was lit up with former teammates singing his praises. And now, Jarvis Landry has gone a step further as he crashed a recent press conference to tell his former collegiate and NFL teammate that he was proud of him.
In addition to this, Landry told Beckham to "go get that ring."
After Landry told Beckham how proud he was of him, OBJ responded by saying no one besides his father has had the impact on his life that Landry did.
That brings up an interesting parallel as many felt Landry being in Cleveland had a lot to do with the Browns going after his best friend. On the other hand, Beckham's father is the main reason he left Cleveland, and Odell, Sr. posted an 11-minute video of his son running wide open while Baker Mayfield refused to throw him the ball.
This video promptly led to the team excusing OBJ from practice and after a meeting between him, head coach Kevin Stefanski, and general manager Andrew Berry, Beckham was out.
He later joined the Rams and has had a lot of personal and team success. He and his Los Angeles teammates will face off with Joe Burrow and the Cincinnati Bengals in this year's Super Bowl.
Many Cleveland fans are torn as they hold bitter feelings for Beckham but would surely prefer not to see the Bengals win the Super Bowl — especially since that would make them the only AFC North team without a Lombardo Trophy.
As for the players in Cleveland, they don't seem torn at all as the majority are echoing Landry's sentiments and pulling for their former teammate.