Best prop bets for Browns vs. Jets in Week 2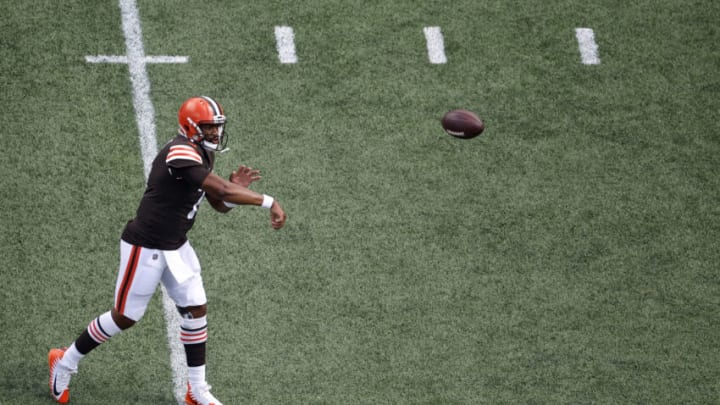 Browns, Jacoby Brissett. (Photo by Jared C. Tilton/Getty Images) /
For those who don't want to simply bet on who will win and by how much, prop bets can be a lot of fun. Here are the 3 best for the Cleveland Browns against the Jets in Week 2
Betting has always been a big part of sports and the NFL is no exception. In Week 2, the Cleveland Browns will be hosting the New York Jets, and opened up as 5.5-point favorites.
While selecting winners against the spread is the most popular bet, there are other options out there — such as prop bets. Here we look at the three best in Week 2 for the Browns.
Will there be overtime?
This one feels like it would be a risk. Sure, there are a lot of games that go to overtime every week and anything can happen. Having said that, New York is starting Joe Flacco as Zach Wilson again is out with a knee injury.
Flacco struggled to put points on the board last week against the Ravens and doesn't really scare opposing defenses at this point in his career. It's true the Browns struggled to pass the ball against Carolina but they should be able to win this one based on their rushing attack even if those issues continue.
Will each team complete first pass?
This is an interesting one since there will be two parts. Whether you select yes or no, you will either be hoping your team's first pass hits the ground or hoping the opponent connects on theirs. In the end, it won't matter much at all in the grand scheme of things but it's still a cool bet worth following.
To score two-plus touchdowns
In Week 1, Kareem Hunt scored two touchdowns and in this one, he's listed as one of the top-three players to do so in Week 2 for Cleveland. However, he's behind Amari Cooper (+1600) and Donovan Peoples-Jones (+1700).
Clearly, the oddsmakers don't think too highly of the Jet's passing attack. That makes sense after they gave up three touchdown passes to Lamar Jackson in Week 1.